A few weeks back, I had the pleasure of attending a Vincent Price themed dinner where I met the lovely Lee Clayton Roper author of A Well-Seasoned Kitchen.  When she introduced herself as a cookbook author, my heart skipped a beat.  I immediately asked her what was the title of her book and was so pleased to find out it was a cookbook that had been recently on my radar. Lee kindly offered to send a copy to me for review and to offer a giveaway to one of my Cookbook Junkies.
A Well-Seasoned Kitchen was started because Lee wanted to find a way to preserve her mother Sally's recipes.  The cookbook kicked off with Sally's participation but sadly, Sally passed away before the cookbook was finished. Lee finished this beautiful tribute to her mother's memory on her own but her mother's presence resonates off the pages.
The book provides you with everything you need to throw a fabulous dinner party or a wonderful dinner for your family —  from elegant appetizers and drinks to sweet finishes.  The appetizers start us off with Cheddar Chutney Tarts, Smoked Salmon on Mini Cheddar-Dill Scones, Melted Gruyere and Bacon Dip and Camembert Saute as a few of the appetizers that caught my eye. Cheddar Chutney Tarts are going to be made the next time we have friends over.
The Breakfast and Brunch chapter offers Sour Cream Peach Muffins, Very Lemony Bread and Deviled Eggs in Madras Sauce and more.  There are chapters on Soups, Side Salads, Main Dish Salad before we arrive at the Poultry Chapter.  Chicken is a staple in many homes because it is economical and generally liked by even picky eaters.  It is a favorite in our home too and this book has so many wonderful ways to prepare the humble bird. Chicken Breasts Stuffed with Chorizo, Grilled Chicken with Lime-Green Chile Sauce, and I was happy to see a recipe for Savory Chicken in Phyllo Packets.  When my eldest son was young, I would make a phyllo wrapped chicken dish that he and his friends raved about — "chicken in paper" they would call it – and Lee's recipe has me eager to try it soon if not for a family meal for our next dinner party.
Many more chapters await us filled with delicious recipes.  Meats, Vegetarian Main Dishes and Pasta chapters are full of wonderful recipes.  The Side Dishes Chapter which offer us Kentucky Corn Pudding, Leek Gratin, Veggie Fries with Lemon-Garlic Aioli, Potato Souffle and Lemon Rice is my favorite chapter!  I am all about the side dishes!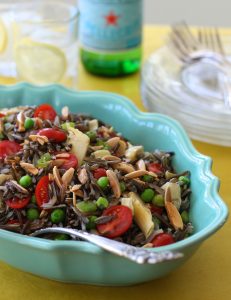 The Elegant Wild Rice Salad looks perfect for the barbecue season coming up and Lee is sharing this recipe with us here:  Elegant Wild Rice Salad.
The book ends off with desserts as most celebrations and dinner parties do.  From simple to spectacular, we have Chocolate Cocout Pecan Bars to Eggnog and White Chocolate Pots de Creme.
This book has a mix of recipes that the novice and more experienced cook can master.  It is a perfect gift for a newlywed or someone just starting out and a wonderful hostess gift.  It is the perfect gift for someone who loves to entertain.
Lee has graciously offered a copy of this book for one of my readers.  The giveaway is open to US addresses only. Leave a comment on this post telling me if you like to throw a dinner party or if the thought terrifies you.  A random winner will be chosen on May 27th.  Good luck! Thank you Lee for the lovely book as well as offering a giveaway.
If you are visiting for the first time, please be sure to sign up for e-mail notices so that you don't miss a giveaway and also join my group on Facebook — look for the Facebook icon on the upper right.
Random Number Generator picked #28 – JUNKIE — congratulations!