Obvious declaration: I am writing this to share as a few people asked – as in two. (I hate those posts where someone says SO MANY PEOPLE ASKED FOR THIS RECIPE – bloody hell, just tell the truth).
This by no means is a "professional" post – as almost anything on this site isn't – is fun, quick and easy and I assume you have some basic cooking chops.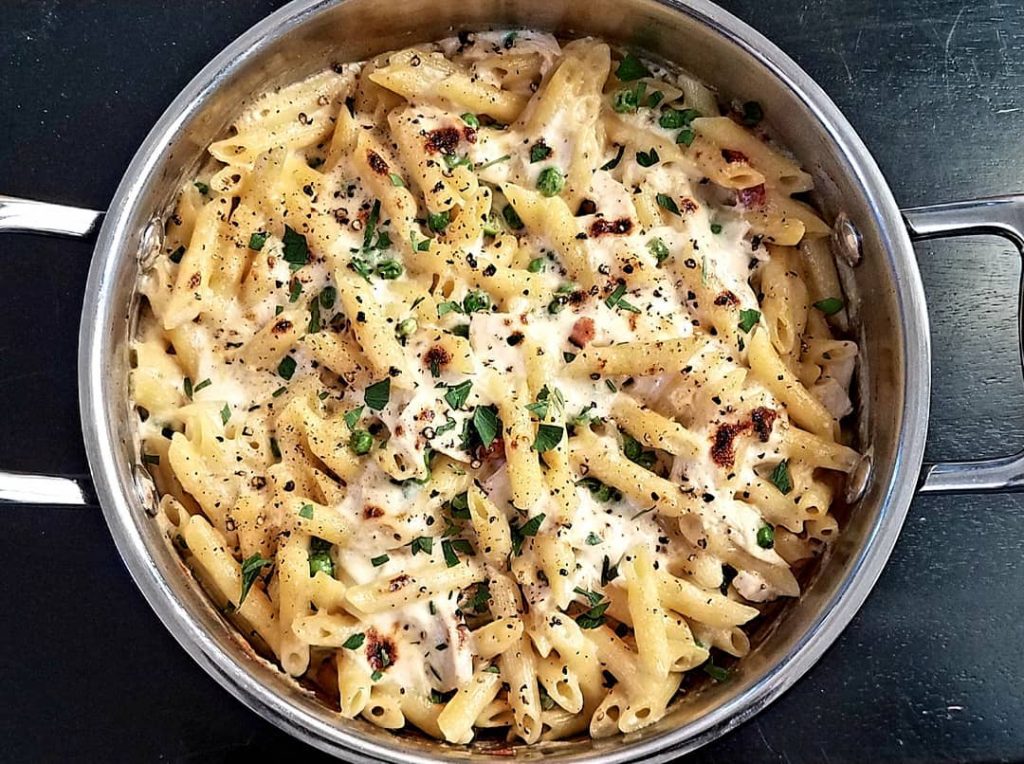 I love to experiment with macaroni and cheese. While I am the Director of Publicity for Eat Your Books and I adore cookbooks, I enjoy just going into the kitchen and coming up with something new.
This week I had some black pepper bacon, leftover chicken breast and came up with this dish.
1 16 oz package of penne (cooked 3 minutes shy of package directions in salted water) drain, rinse (yes, rinse stops it from cooking further and avoids clumpy pasta). Then season the pasta with a little salt – set aside. I always season my pasta water and my cooked pasta – before using with a sauce – I do not rinse spaghetti or other kinds of pasta – only if using for mac and cheese for reasons stated above. Do whatever blows up your skirt.
Other Ingredients:
3 slices of bacon, diced – I used black pepper bacon
1/4 cup flour
2 cups milk/cream mixture because that is what I had
1 tablespoon of grainy mustard
1 cup of frozen peas
6 oz package of Murray's "fondue blend" cheese which is a mix of Gruyère, Raclette, and Fontina
2 cooked chicken breasts diced into small pieces (can use a Rotisserie chicken)
1/4 of an onion diced
Preheat oven to 400.
In a saute pan, render down the bacon until crispy. Then add onion and saute for a minute or two.
Add the flour and whisk to combine, cook the flour, bacon, onion mixture for two minutes. Slowly add the 2 cups of milk (you can use any combo you like since I used 1 cup of cream, I cut down the cheese amount this is all on your own taste preferences). Allow the mixture to come to a simmer and thicken slightly. Then add the mustard and cheese blend – or any cheese combination you prefer – I wanted a white pasta dish – so didn't use any cheddar.
Note: Here I decided there was too much cheese sauce – I removed half to use for another dish. It's up to you if you like it more creamy.
After the cheese sauce comes together – add the pasta, peas, and chicken – adjust seasonings – salt, fresh black pepper. Move to an oven safe vessel – I made mine in a deep saute pan as seen in the photo so one pan cooking (I actually cook the pasta in the same pan prior). Bake uncovered for 10 to 15 minutes as most of the ingredients are already cooked. Then set the oven to broil and allow the top to brown up a bit for a minute or two.