I had wonderful intentions, I did…but words only hold weight when honest intentions are behind them. I think that quote was on a poster in grade school right next to the kitten hanging on a rope or just believing poster. My intentions are honest – my timing is flawed. We'll just call this an almost 29,000 member celebration in The Cookbook Junkies giveaway or a really early 2017 Cinco de Mayo giveaway! Ole!
What I have for you is this IMUSA Granite Mortar and Pestle for your guacamole needs and those needs beyond guacamole.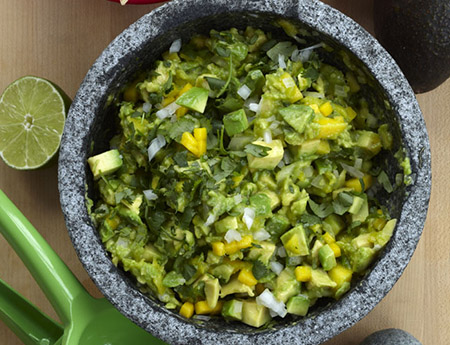 Also included are two of Rick Bayless' books that I picked up Authentic Mexican and Mexican Kitchen. I have these books in my collection and when I spotted them at the thrift store – I grabbed them for you.
GIVEAWAY:  To enter this giveaway please leave a comment on this post telling me your favorite Mexican dish. You may leave a comment every day until June 10th when a random winner will be chosen. The giveaway is open to U.S. addresses only and sponsored by me. When we reach 30,000 I have a huge Italian cookbook and tools giveaway for you!  Good luck.