I have three fun titles for one of you.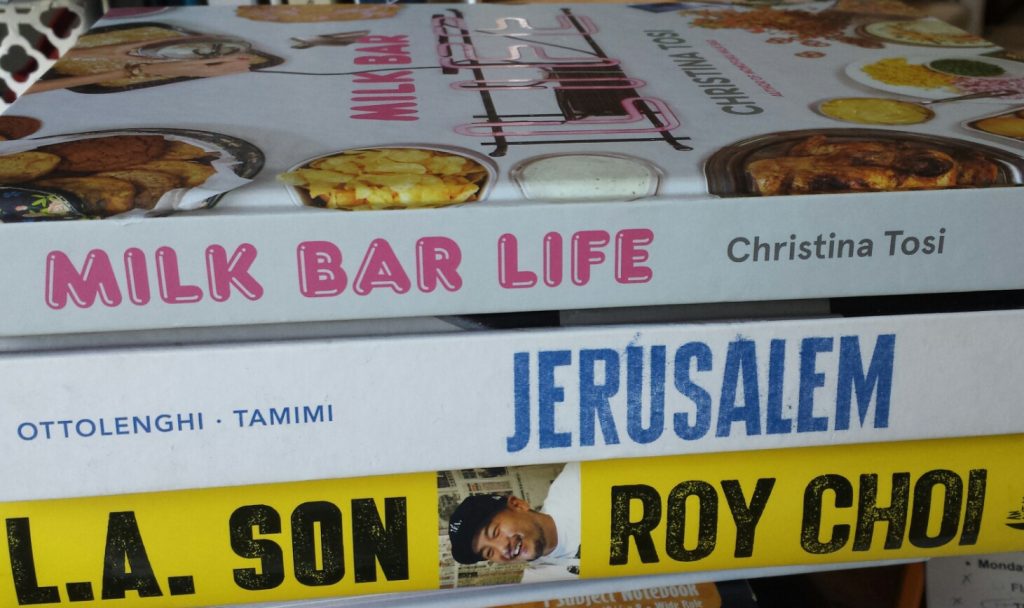 Milk Bar Life by Christina Tosi is a fun quirky book by the author of Momofuku Milk Bar. It includes recipes like kimchi quesadillas, burnt honey butter kale with sesame seeds, pumpkin gooey butter cake, salt and pepper cookies, hijacked Biscoff cookies, rosemary jelly, smoked cantaloupe jam, blueberry miso jelly, sweet and sour red onion jam, Milk Bar English muffins (to soak up the jam), chicken fat biscuits — about as wide a variety as you can get everything from blue cheese pretzels to roast chicken dinner and more.
Jerusalem by Ottolenghi – not much to say here. It's Ottolenghi – the poster boy for cool, flavorful food. Jerusalem is a mix of both vegetarian and meat inclusive dishes.
L.A. Son by Roy Choi is part memoir, part cookbook. You have to love a book whose first sentence is "HELLO. I'M ROY. Get in. We're going for a ride." It's a little Korean, a little Mexican, a lot street food and Buttermilk Pancakes thrown in for the hell of it. It's all good.
GIVEAWAY: For a chance to win this trio from the cool kids, leave a comment on this post telling me which book sounds the best to you. You may leave a comment daily until a random winner is chosen. The giveaway is open to U.S. addresses only. A random winner will be chosen around July 15th. This giveaway is sponsored by me. The links in the post are Amazon affiliate links and any small commissions go toward running the site as well as helping to pay for great books like this when I see them! If you shop from the Amazon link on the right sidebar, any purchases you make also help!