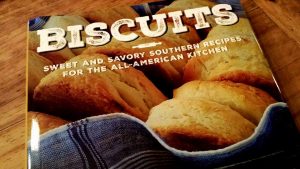 I have been waiting for this book!  Jackie Garvin's Biscuits has just hit the shelves and if you love Southern recipes and biscuits, this is the book for you!  Many, many biscuits.  Jackie not only wrote this lovely book but is responsible for most of the photos.  She is also the voice behind the popular food blog Syrup and Biscuits.
Jackie opens up with a chapter on all types of biscuit creations including Rolled and Patted, Layered, and Cut Biscuits, Rolled and Cut Biscuits, Drop Biscuits, Free Hand, Loaf and Leftover (as if there are leftover biscuits, not in my house). A Gluten Free Biscuit recipe, Dill Buttermilk Biscuits and Raspberry Biscuit Pudding are all included in this chapter.  Thanks to Jackie and Skyhorse Publishing for sharing the Sour Cream and Chive Drop Biscuits and Turkey on Sour Cream and Chive Biscuits Recipes.  (Click on Recipes link to download the recipe).
The Biscuits in Bakery Shops chapter hits our sweet spot with recipes for Maple Cinnamon Rolls with Buttermilk Maple Icing, Biscuit Doughnuts, Chocolate-Covered Cream-Filled Whole Wheat Biscuits and Resurrection Biscuits – a dessert type biscuit made with canned biscuits.  I haven't bought canned biscuits in a decade but I may have to try this recipe with Andrew one day soon.
Biscuits in a Biscuit Shop includes recipes for Old Fashioned Chicken Salad on Yogurt Biscuit Bread, Ham Biscuits with Honey Mustard Butter, Bacon Cathead Biscuit with Fried Egg and American Cheese and a Loaded Baked Potato Biscuit.  The next chapter, Biscuits in a Butler's Pantry covers recipes for gatherings and parties — Brandied Apricot Jam and Goat Cheese with Tavern Biscuits and Spicy Pimento Cheese Bites — sounds like a party to me!
Including biscuits as a part of your family meals is easier with recipes from the Biscuits in the Everyday Home Meals chapter.  Delicious recipes for Homemade Tomato Soup with Cheddar Cheese Thyme Biscuit Croutons and Barbecue Pork on Mashed Potato Biscuit with Cajun Crispy Fried Onions are included.   And, of course, there is a recipe for Chicken and Dumplings which looks heavenly!
The final chapters include recipes for Sausage Gravy and Biscuits, Bacon Tomato Gravy, Chocolate Gravy, Peach Butter, Hushpuppies, Cheese wafers, cobblers, tea cakes and more!
This is a book for not only biscuit lovers but Southern food lovers and bakers alike.
GIVEAWAY:  Thanks to Skyhorse Publishing I have a copy of this wonderful book for one of you.  Please leave a comment here telling me about the best biscuit you ever had.   For an extra entry, please visit and like Skyhorse Publishing's Facebook page – leave a second comment telling me you did so.  This giveaway is for U.S. addresses only.  A random winner will be chosen on May 18th.  Good luck!
Thanks to Skyhorse Publishing and Jackie for this opportunity to review this wonderful book and for sharing a recipe with us. The book can be purchased at Amazon here (affiliate link) and at Barnes and Noble here.