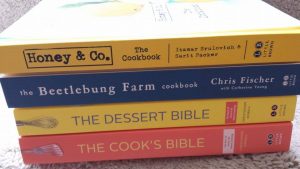 Honey & Co. is a gorgeous book which was named Cookbook of the Year by the Sunday Times in the United Kingdom.  This book was written by husband and wife team and Ottolenghi  protégées,  Itamar Srulovich and Sarit Packer, and is full of delicious and unique Middle Eastern recipes.
The Beetlebung Farm Cookbook is another stunner of a book containing recipes from a year of fresh, seasonal cooking from rising chef Chris Fischer who runs his grandfather's farm on Martha's Vineyard.
The Dessert Bible and The Cook's Bible by Christopher Kimball of Cooks Illustrated fame are paperback reprints of the original hard cover versions of these titles.
This is not a review post as I may be covering some or all of these titles elsewhere but I do have a giveaway for you!
Random Number Generator picked #7 — Laurel Eden!  Congratulations!
GIVEAWAY:  Little & Brown has graciously sent me an extra set of these books to giveaway to one lucky reader.  This giveaway is for U.S. addresses only.  There are two chances to win and you have to leave two separate comments for each chance.  One leave a comment telling me which book is of the most interest to you.  For a second chance, share this giveaway on any social medium platform – Facebook, Twitter or the like.  Make sure you leave a second comment telling me where you shared.  Good luck!  A random winner will be chosen on June 1st!