Last week, I was able to attend an event at Sprouts Farmers Market focusing on the many benefits of turmeric. A few hours away from home is a rare occurrence for me. It was fun to explore the Denver Sprouts, meet other bloggers and the bonus of the evening was getting to meet a friend, Donna Currie.
For my produce and meat, I shop almost exclusively at Sprouts, they have incredible service (the meat department will provide any service you request), their selection is great and they are conveniently located. I liken it to a Trader Joes meets Whole Foods with great prices.
Turmeric has many health benefits that you can discuss with your physician. Studies have focused on inflammatory illness relief, the reduction of colon polyps and more, if you have wish to take a turmeric supplement, please speak to your health professionals.
I love to add turmeric to different dishes for color and for health reasons. At the event, I learned about a product Golden Milk by Gaia. This product is a mix of turmeric, black pepper, dates and herbs. It is delicious in warm milk in the evening to help with restful sleep. Myself, I'm not a person who loves hot beverages so I thought it would be wonderful to add to macaroni and cheese, soups, and even warm rice puddings.
You know me and macaroni and cheese, I had to try to make a somewhat healthier version to try the Golden Milk blend. I added pureed carrots to the cheese sauce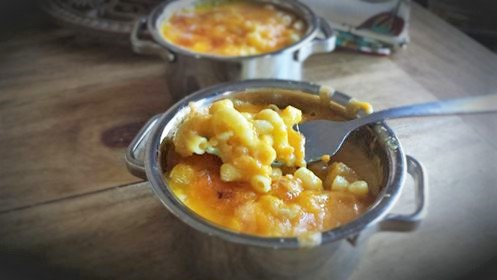 to add more nutrients to the dish, more color and flavor, a tablespoon of the Golden Milk blend and lots of black pepper. We all loved it.
Since the carrots added more volume to the cheese sauce – I didn't need as much for the macaroni and cheese. I had about a quart of carrot cheese sauce remaining and I re-purposed that sauce into a soup. For that, I added the quart of carrot cheese sauce, a quart of corn broth (I had in the freezer but you can use vegetable broth or even chicken broth), and a 1/2 cup of water into a soup pot. I brought that to a simmer and added some black pepper, a dash of garlic and onion powder and tasted it for seasoning. Next, I added two carrots, sliced, a handful of broccoli florets chopped, and a bag of cheese tortellini and let that simmer for about ten minutes. The result was quite delicious but wasn't very photogenic as you can see from the picture below (I tried to make it as tiny as possible).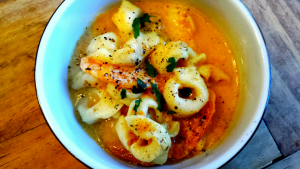 Now for the more photogenic macaroni and cheese:
Macaroni with Cheese and Carrot Sauce
Ingredients
1 pound of elbow macaroni (or your choice of pasta) cooked 3 to 4 minutes short of package instructions, drained and rinsed - set aside
1 pound of shredded cheese - or combination there of - I used cheddar
1/4 cup of shredded cheese to top
4 tablespoons of butter
1/4 cup of flour
1 quart of warmed whole milk
Salt
Pepper
1 Tablespoon of Golden Milk (Gaia product) (or 1/2 teaspoon of turmeric, extra black pepper)
1 pound of cooked carrots, pureed in food processor
Instructions
In a heavy bottomed sauce pan melt butter and added flour to make a roux.
Cook it for at least five minutes.
Warm one quart of whole milk in the microwave for three minutes.
Slowly add warmed whole milk to roux while whisking --- cook until thickened about 10 minutes.
Add 1/2 teaspoon of salt, freshly ground pepper and 1 tablespoon of Golden Milk blend
When sauce is thickened -- add the pound of shredded cheese and pureed carrots - combine until cheese has melted. At this point, you may add additional milk until it reaches a thickness you prefer.
Add the cheese sauce to the cooked macaroni and transfer to a buttered baker. (I only used half the cheese sauce - you can choose to add it all or reserve half for another recipe) I used some mini ramekins and an 8 x 8 baker. The recipe should fit in one 9 x 13 pan.
Sprinkle with remaining cheese and bake uncovered for 20 to 25 minutes until cheese is brown and bubbly.
http://thecookbookjunkies.com/turmeric-a-trip-to-sprouts-and-macaroni-cheese-with-a-bonus/
©2015 The Cookbook Junkies - All Rights Reserved
Many thanks to Sprouts for this experience and the wonderful goody bag!