What do these books have in common:  the mystery Devonshire Scream and the cookbooks Simply Scratch and The Love & Lemons Cookbook? They are all great books with recipes and I have them all here for one in one giveaway!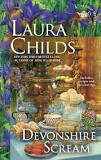 In Devonshire Scream, New York Times bestselling author of Ming Tea Murder serves up robberies, murder, and tea blends in her latest Tea Shop mystery. I read the book on a recent flight to New York and thoroughly enjoyed Laura Child's writing style as well as the recipes and tea tips. Our main character, Theodosia, owns Indigo Tea Shop and finds herself in the middle of a crime scene that involves a robbery with a side of murder while catering a show at a local jewelry store. At her dear friend Brooke's insistence, who is the aunt of the victim, she begins playing detective. You will have to read the book to find out more!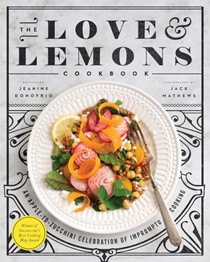 The Love & Lemons Cookbook from Jeanine Donofrio has been discussed a great deal in The Cookbook Junkies and I had to get my hands on a copy. From Jeanine's first line, "Why Love & Lemons? Because once, we walked by an Italian dog with a lemon in its mouth. Obviously" I was sold. Quirky – I like quirky.
The book is visually beautiful with 26 chapters from A to Z or Apples to Zucchini & Summer Squash. Not only do the recipes look amazing, but the author adds valuable information such as "How to Cook with What You Have" and "What to Have on Hand at all Times". Her ease with words and encouraging tips instill confidence in cooks who might be newer to cooking. Loaded Sweet Potato Nachos, Curried Parsnip and White Bean Soup, and Spring Leek & Lemon Pasta all look like winners.
Special thanks to Jeanine and her publisher for sharing a tasty crostini recipe that will be perfect for your next tea party or brunch. This recipe is so easy and tasty – my son loved it (as did I).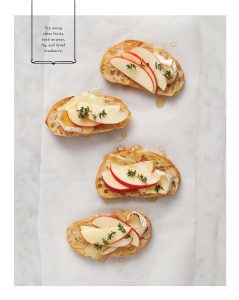 APPLE, BRIE & THYME CROSTINI = Serves: 4
8 slices ciabatta bread
8 (¼-inch/0.5-cm) slices brie cheese
1 Gala apple, thinly sliced
Extra-virgin olive oil, for drizzling
Honey, for drizzling
4 sprigs fresh thyme, thick woody stems removed
Sea salt and freshly ground black pepper
Preheat the oven to 350°F (180°C) and line a large baking sheet with parchment paper. Place the ciabatta slices on the baking sheet and top each with a slice of brie, a few slices of apple, and a drizzle of olive oil. Bake until the cheese is melted and the bread is toasted. Remove from the oven and drizzle each crostini with honey. Top with a sprig of fresh thyme, season with salt and pepper, and serve hot.
Reprinted from The Love & Lemons Cookbook by arrangement with Avery Books, a member of Penguin Group (USA) LLC, A Penguin Random House Company. Copyright © 2016, Jeanine Donofrio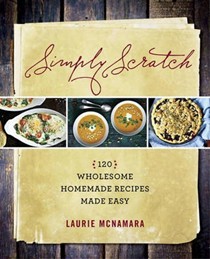 Simply Scratch by Laurie McNamara shares 120 Wholesome Homemade Recipes Made Easy. My favorite recipes in this book are those for Cream of Chicken Soup and Cream of Mushroom Soup – no more sodium laced cans in your casseroles. This weekend I'm going to be trying her Orange-Ginger Chicken and Rice – because it looks and sounds amazing. I also have the Mississippi Mud Pie (But Actually Texas Sheet Cake) and Pecan Toffee Oatmeal Cookies marked to be made. This is the perfect book to add to your collection as it provides scratch recipes from the Basics to Desserts.
Special thanks to the author and her publisher for sharing Laurie's Lemon Ginger Scones with us another great option for a brunch or tea party. I love making scones and this recipe combine two of my favorite flavor combinations. A little trick I use to make perfect scones is that I grate the butter, spread it out on a small sheet pan and place it back in the fridge or freezer until I'm ready to use it.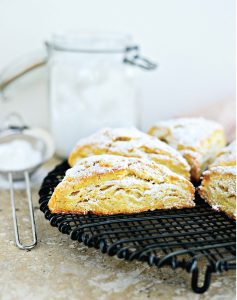 LEMON GINGER SCONES
This is the part where I confess that I once ate a whole batch of these scones in a record three days. I was testing the recipe and poof! They were gone. I didn't mean to, but do we ever? For me, a scone served with a steaming cup of coffee or tea is perfection. I haven't looked back since I was first introduced to scones by my friend Nichole, and this recipe does not disappoint. These scones are inspired by some I love at a bakery in a nearby town. A quintessential classic American bakery complete with exposed brick walls and a hodgepodge collection of cute tables and chairs, this place serves the most amazing breads and baked goods. Ever. It's safe to say I've tried one of all their scones, and the lemon ginger are my number one favorite. These scones are lemony, with a subtle ginger flair, and are topped with a thick layer of powdered sugar. What's not to love? So naturally when I tried them at home I ate them all. The end.
NOTE: The key to any good scone recipe is using ice-cold ingredients, so I cube the butter and keep it in the freezer, and keep everything else, with the exception of the dry ingredients, measured and combined in the fridge until I'm ready to mix them in.
MAKES 8 SCONES • TOTAL TIME: 30 MINUTES
INGREDIENTS:
½ cup cold heavy cream
2 large eggs
1 teaspoon organic lemon extract
½ teaspoon pure vanilla extract
2¼ cups unbleached all-purpose flour, plus more for dusting
3 tablespoons granulated sugar
1 tablespoon baking powder
¼ teaspoon kosher salt
¾ cup (1½ sticks) ice-cold
unsalted butter, cut into cubes
¼ cup finely diced candied ginger
2 tablespoons grated lemon zest
¼ cup powdered sugar
DIRECTIONS:
Preheat the oven to 400ºF. Line a rimmed baking sheet with a silicone baking mat or parchment paper.
In a 2-cup liquid measuring cup, use a fork to beat together the heavy cream, eggs, lemon extract, and vanilla until combined. Chill until ready to use.
In a large bowl, combine the flour, sugar, baking powder, and salt. Drop in the ice-cold butter and use a pastry cutter to cut the butter into the flour mixture until it resembles coarse wet sand.
Pour in the chilled cream mixture, ginger, and lemon zest and use a rubber spatula to stir until just combined.
Turn out the dough onto a lightly floured work surface and knead it a few times before forming it into a ball. With floured fingers, flatten it out into a 11⁄2-inch-thick round. Cut the round into 8 equal-size wedges and transfer them to the prepared baking sheet.
Bake for 15 to 18 minutes, rotating the baking sheet halfway through baking. Transfer the baked scones to a wire rack to cool. Once the scones have cooled, dust generously with powdered sugar before serving.
Reprinted from Simply Scratch by arrangement with Avery Books, a member of Penguin Group (USA) LLC, A Penguin Random House Company. Copyright © 2015, Laurie McNamara
GIVEAWAY:  My lovely friends at Avery Books and Berkley Books who provided me with copies of these books for this review want to share a set of them with one of you! This giveaway is open to U.S. addresses only. There are several options to enter – do one or do them all.
1) Leave a comment on this post (daily if you like) telling me something you love to serve or have at a brunch or tea party.
2) Share this post on social media – there are several icons on this page to make this easier. Leave a comment telling me where you shared.
3) Visit The Cookbook Junkies Facebook page. Likes are appreciated. Sharing the page is even more appreciated. I only post giveaways on that page. Leave an additional comment telling me you did so.
4) Visit Avery and Berkley's Facebook pages. Likes are appreciated. Leave an additional comment telling me you did so.
5) Visit Eat Your Books Facebook page. Likes are appreciated. Leave an additional comment telling me you did so.
A random winner will be chosen on November 5th! Good luck.
Random Number Generator picked #111 Carolsue.
Disclaimer: Links to Amazon are affiliate links and help to support this page. Please see the right side bar for links to my stores on Amazon and Book Depository – any purchases there also support this page. Lastly, the Dover Publications promotion is still going on until January 1st. See the ad on the right side bar. Using that link and code will result in a 25% discount on your purchases there.