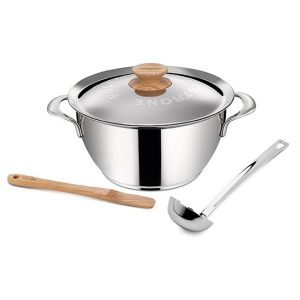 I have a new crush – Lagostina cookware – just when I'm downsizing my kitchen gear – I have fallen hard. Lagostina makes a quality product that is also stunning and they warranty their products for life. Recently, a friend Karen posted that she bought the polenta pot and for one second I told myself to look away – but I am weak when it comes to quality cookware.
Lagostina's polenta and minestrone pot is a thing of beauty as are all their cookware. I am also quite fond of her cousin, the Risotto pot which is just as lovely. And while I love these beautiful  stainless steel pots with the wooden accents – the hammered copper –  has me contemplating selling a kidney to get the set. I can hold off harvesting the kidney for a few weeks as my friend, Bryna, sent me a set of the frying pans and they are not only gorgeous but they clean up so easily and are now my go to skillets – even over my high quality nonstick skillets. I find myself also reaching for this polenta pot for pasta and other tasks because I keep it out on the stove as it is too pretty to be put behind closed doors. The polenta pot also comes with a beautifully crafted polenta stirrer and ladle.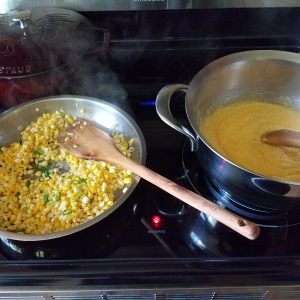 I must be living right because this week, when I took some donations to the thrift store and went in – guess what was there on the shelf – a Lagostina stainless steel pan and lid. I grabbed that $10 deal quickly. That new skillet is to the left of the polenta pot on the stove – in the picture shown. Move over All-Clad – Lagostina has stolen my heart.
Even though I have been using this pot for other tasks, I had yet to make polenta in it. Yesterday, I remedied that and made a luscious Sweet Corn and Scallion polenta. I've made polenta a few times before but did some research before diving into my own recipe. One trick I gathered for reducing the cooking time is to soak your polenta overnight – see more about that at Serious Eats.
This Sweet Corn and Scallion Polenta that I made for you is so flavorful and delicious and goes well with any protein or as an entree by itself. I did things a little differently than normal polenta recipes – you will see that below in the instructions.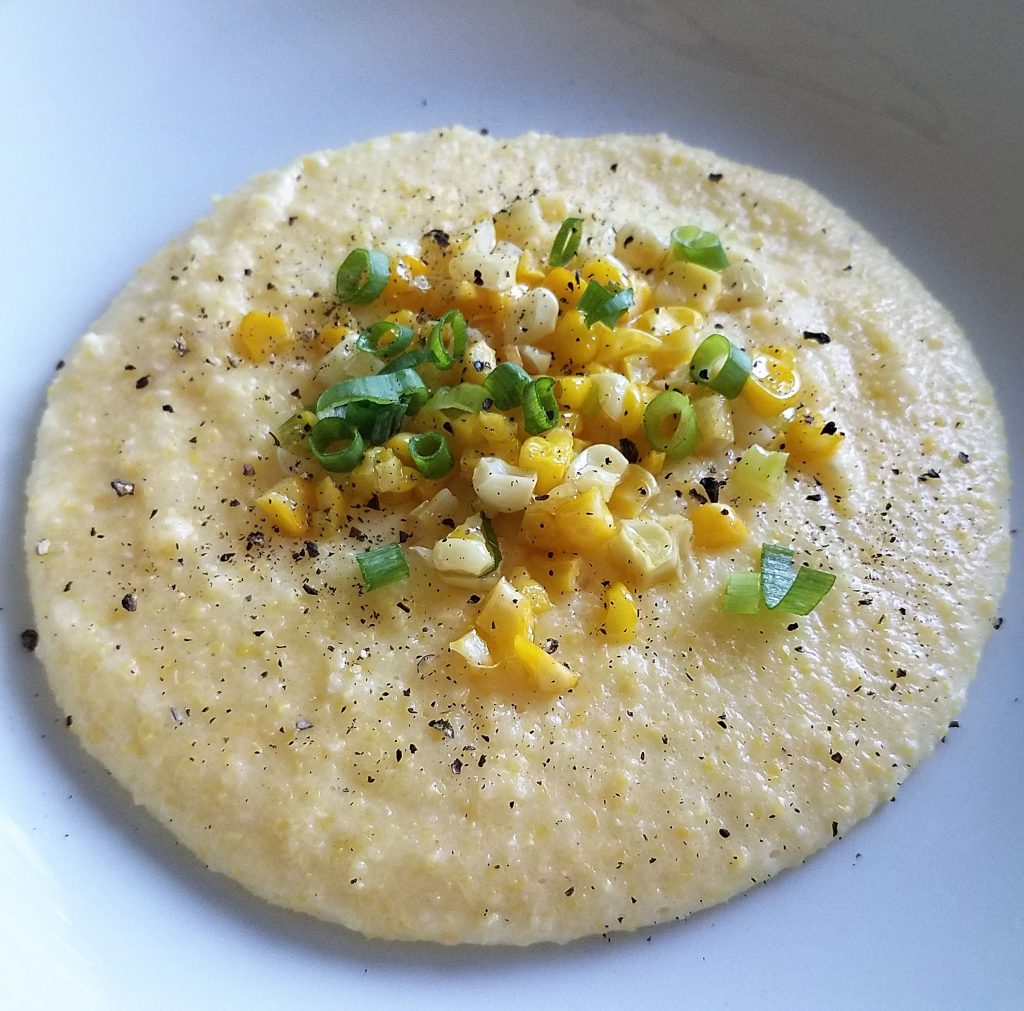 Now for the recipe.
2 to 3 ears of corn
5 cups of water
1 cup of milk
3 scallions sliced
2 cloves of garlic, minced
Salt
Freshly ground black pepper
4 tablespoons of butter
2 cups of polenta
2 tablespoons of olive oil
For later to rehydrate if you need to do so (see Cooks Illustrated article below).
an additional cup of whole milk
a ricer
Cut the corn from the cobs and set the kernels aside. Fill the polenta pot with five cups of water and add your cobs to make a corn broth to use instead of water. While that is working make your corn topping.
In a skillet, add the olive oil over medium heat. Add the minced garlic to the warm oil until fragrant, then add the sliced white and light green portions of the scallions to the pan, cook for a few minutes – and add the kernels of the corn – stir together and add salt and pepper. Cook for 10 to 12 minutes – and set aside.
After the water has come to a bowl with the corn cobs, let it simmer for thirty minutes. Remove the cobs and while the water is still simmering – slowly add the 2 cups of polenta – whisking all the while. I let this simmer and bubble for about 20 minutes before I added 1 cup of whole milk. After 20 additional minutes, I added the four tablespoons of butter and then let it simmer for about 10 to 15 more minutes until creamy.
I added about half the corn mixture to the polenta at this point and saved the remaining corn mixture for topping. You can add more black pepper and even some grated cheese if that is something you would like.
Check out this article on Cooks Illustrated on how to bring your polenta back to life – to the left is a quick photo of the polenta once I followed the instructions at CI. That is a panko-cheddar crusted pork chop that I served with it.
Now for the exciting news – my friends at Lagostina are offering one of my readers the polenta pot. To enter follow the instructions below on rafflecopter. Good luck – this giveaway is open to US residents only