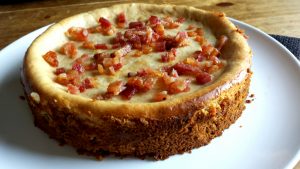 Back in New York, I made cheesecakes frequently.  I'm trying to find a modest way to convey that I'm damn good at cheesecake (and brownies and macaroni and cheese and …..) but there isn't such a way.  You have to just own it.   I'm great at making cheesecakes and experimenting with different flavors and crust.  Cheesecakes were always a hit with Jim's family and my friends.
Andrew and I love peanut butter and banana – it's a favorite snack of ours and, of course to complete the Elvis flavor profile, we had to add bacon.
This cheesecake is really delicious — a nice blend of all the flavors – nothing is overwhelming.  If you don't care for a certain component leave it out.
While you are here – please check out all the cookbook giveaways I have going on!  Thank you.
Elvis Cheesecake
Preheat the oven to 350 degrees.
Crust
1/2 to 2/3 cup of melted butter
Roughly 9 ounces of Nutter Butter cookies (I used 3 mini snack containers)
Pulse both ingredients in the food processor until it combines into coarse crumbs – start with a 1/2 cup of melted butter and add more if needed.
Pat the crust ingredients into the bottom of a spring form pan bringing the crust up the sides (my family likes crust).  Bake for ten minutes to set the crust.   These amounts should make enough crust for a 9 inch springform pan with leftover crumbs (which you can freeze or use to make a mini cheesecake or cheesecake muffins).  Today I made two smaller cheesecakes and had enough crust to make a 7 inch tart as well.
Filling
3 eight ounce packages of cream cheese, softened
2 ripe bananas, mashed
1/2 cup of smooth peanut butter
1 1/4 cups of sugar
2 eggs
a pinch of sea salt
Beat cream cheese and sugar until smooth.  Add eggs one at a time, beat for a few minutes until creamy and combined.  Add mashed bananas, peanut butter and salt beat well.  Spread filling over crust.  Bake  in 350 degree oven for 1 hour on center rack.  On bottom rack place a pan of water (This is the method I use every time and it works for me – if a crack happens – because  cracks happen – cover it up with chocolate ganache or leave it — I have never seen a person refuse a piece of cheesecake because of a crack).   Adjust baking times if you are making smaller cakes or larger cakes.  With this cheesecake, I didn't even use the water method because I had the bacon in the oven on the lower rack and the cheesecakes came out fine.
Transfer cake to rack, cool one hour, chill overnight.  Decorate with chopped candied bacon.  Serves 10 to 12 people.
Peanut Butter Candied Bacon
Preheat oven to 350.
Place four slices of thick bacon on a rack that has been placed inside a sheet pan, sprinkle a little brown sugar on the bacon and bake for 10 minutes.   While bacon is in the oven – mix one tablespoon of smooth peanut butter, a teaspoon of maple syrup and a tablespoon of brown sugar — place this mixture in the microwave for ten seconds to loosen for spreading on the bacon.
After the bacon has baked for 10 minutes, remove from oven and spread the peanut butter mixture on bacon – place back into oven – bake for ten minutes.  Remove again  from oven (it will be ugly) – spread the melted peanut butter out – and then flip the bacon – and apply reserved  additional peanut butter mixture on opposite side.   Return to oven for ten minutes.  After ten minutes, check again – smooth out the peanut butter and finish up in oven until bacon is nice and candied.  The peanut butter mixture gives it a great flavor — let it cool and then dice up and sprinkle on top of cheesecake before serving.