If you read my Under Pressure post, you already knew I had a phobia of pressure cookers until The Great Big Pressure Cooker Book got me excited about pressure cooking.
A few friends have been raving about Instant Pot and I was curious to see what all the excitement was about.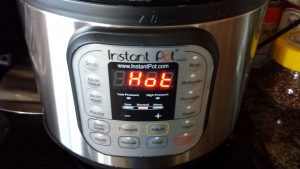 Instant Pot is a 7-in-1 Multi-Functional Cooker–Pressure Cooker, Slow Cooker, Rice Cooker, Saute/Browning, Yogurt Maker, Steamer & Warmer and includes a 6Qt 3-ply bottom stainless steel cooking pot, stainless steel steam rack with handle, rice paddle, soup spoon, and measuring cup.   Instructions, recipes, and cooking time tables in multiple languages are included.
Truth be told, I was a bit skeptical about the browning or sautéing function, but Instant Pot proved me wrong.  I made the Sweet-Spicy-Salty Drumsticks from Mark and Bruce's book and they browned up nicely in the pot – and I was able to make these less than photogenic but tender and delicious drumsticks for lunch today.  While the pot was cooking the drumsticks, I was in somewhat of a panic – no noises, rattling or explosions were coming from the other side of the kitchen.  Yes, I was quivering on the other side of the room with fears of being run through by a errant drumstick missile.
The pressure cooker is nearly completely silent and an occasional click you will hear, but nothing else.  As I type this post, I have rice cooking in the Instant Pot and I keep turning around checking out the device.  It has yet to move, explode or broadcast a demonic voice instructing me to "GET OUT!" The instructions and the pressure cooker itself are fool proof.  And again – wonderful results – the rice is fluffy and perfectly done.  Is there anything less photographic than white rice?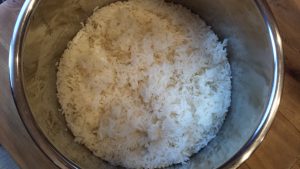 Many of my friends are using the Instant Pot on a daily basis and I believe I will be using it several times a week myself and more.   I love the fact that I can donate or pass on my other devices and use this one pot for so many purposes.  Space saver, time saver, energy saver and wonderful investment…it is truly a great machine.   Yogurt making is in my near future as well as making stock in the pressure cooker.   I particularly love the warming function that will help when we are entertaining or my husband is running late from work.
My friend, Vivian Savares states "The Instant Pot is perfect for a working mom or dad, who wants to cook a good family meal even on a weekday. The preset features definitely help, but I love the timer feature, which I can set to start up to 24 hours in advance."
Another friend, with two young children, Lindsay O'Connor shared, "I love how quickly I can get a healthy delicious meal made for our busy family. From making steel-cut oats for breakfast, dried chickpeas cooked for hummus or crispy chickpeas for a snack, and duck ragu & risotto for dinner. The Instant Pot can take you from breakfast to dinner with everything in between."
Now for the good news, the wonderful people at Instant Pot are offering my readers a special discount if you purchase directly from their site.   If you use this link to order your Instant Pot, I will receive a small affiliate fee and if you include the promotional code "cbjunkie" you will receive $50 off any model that you choose.  I have the IP-DUO60 — the model that includes the programmable yogurt function.   Shipping is free and with the $50 off any model – the price is less than most of the other big sites.
Instant Pot provided me with the IP-DU060 to review.  All opinions are my own.   I stand behind any item or product I recommend.