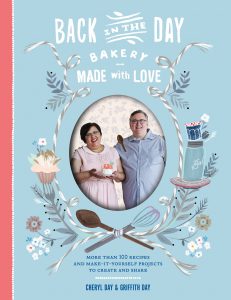 Cheryl and Griffith Day, the married team behind the highly successful Back in the Day Bakery in Savannah, Georgia have returned with their second book, Back in the Day Bakery Made with Love.
Made with Love has a little bit of something for everyone — sweet and savory recipes and a few crafting projects.   Artisan has graciously shared a few recipes with us as well as the beautiful photographs by Angie Mosier from the book.  Look for those links and photos at the end of the post.  I have plans for those biscuits this week.
As I paged through the book, my sticky tag notes got quite a work out.  I have tags on Eggnog French Toast, Mexican Spice Cake with Chocolate Glaze, Ginny's Chocolate Chip Cake with Classic Chocolate Buttercream (Andrew's pick), Strawberry Buttermilk Cake (another Andrew pick), Lemon Pudding Cakes, Orange Buttermilk Pie, Pimento Cheese Crackers, Janie Q's Lemon cake with Lemon Meringue Buttercream, Alabama Lane Cake (a moist cake filled with a whiskey custard, coconut, dried fruit and pecans), Buttermilk Brown Sugar Cheesecake with Sorghum-Caramel Pecans (absolutely beautiful dessert), Chive Parmigiano-Reggiano Popovers, Lemon Buttermilk Fudge, Green Tomato Marmalade, Sweet Potato Comeback Sauce and Bee Sting Honey.  Truthfully, I wanted to put stickers on almost every recipe.   I can't wait to try their extra fluffy pie crust as well as their flaky chocolate crust.  With recipes like this, it's little wonder their bakery is thriving.
Reading this book made me revisit their first book The Back in the Day Bakery Cookbook and all the tags I have on those pages — White Bean Soup with Bacon, Rustic Cheddar Pecan Rounds, Bacon Jam Empanadas, Pancetta-Fontina Bread Pudding, Plum Custard, Bourbon Bread Pudding and Southern Corn Cakes.   I did make their brown sugar tomato bacon jam when I first bought this book and it was delicious – I gave some to friends and they raved as well.  I used it on sandwiches and grilled cheese – yum.
GIVEAWAY:  Artisan Books is giving away one copy of Made with Love to one of my readers.  Please leave a comment on this post telling me what your favorite baked treat is.  US addresses only.  A random winner will be chosen on April 13th.  Good luck.   Random Number Generator picked #47 May Watson you are the lucky winner!
Please remember to check out my other posts for giveaways.  I have two additional giveaways right now as well as an Instant Pot review and discount code.
Special thanks to Artisan for sharing several recipes from the book Old Fashion Biscuits, Caramel Cake with Salted Caramel Frosting and Salted Caramel Sauce.
"Excerpted from Back in the Day Bakery Made with Love by Cheryl Day and Griffith Day (Artisan Books). Copyright © 2015. Photographs by Angie Mosier."