Bound by the Caspian Sea to the east and by Russia, Georgia, Armenia and Iran by land, Azerbaijan has a great mix of water, mountain ranges and extensive flatlands making up its topography. As diverse as its landscape, so is the rich mix of cultural heritage derived from the surrounding countries.
Pomegranates & Saffron A Culinary Journey to Azerbaijan, Feride Buyuran's award-winning cookbook, is one of the reasons I am sharing so much about this beautiful country and falling in love with its people and cuisine. Feride is the voice behind the website AZ Cookbook site where she shares recipes from Azerbaijan, Turkey and beyond.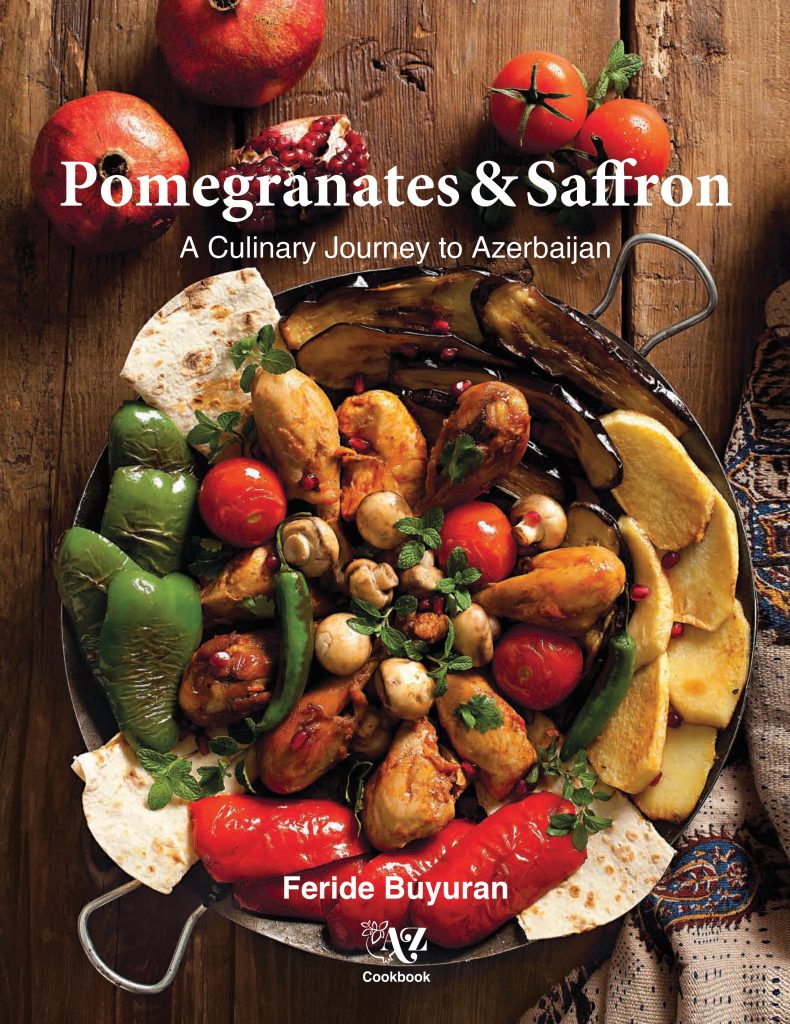 Pomegranates & Saffron is a vibrant, personal journey and Feride had me pulled in by her second paragraph when she wrote "I developed a strong passion for recipes. To me, they read like page-turners." She started collecting recipes at an early age but cooking was only relegated to special occasions as her mother wanted her time spent on studies, not in the kitchen.
It is when she moved to the United States,that she began cooking as she and her Turkish husband craved cuisine from their homeland. "Food we realized, connected us to our homes." Once she started cooking, she found her passion for it as strong as her passion for recipes.
Cooking led her to cookbook research where she found a deficit: there were no cookbooks based solely on the cuisine from her country, where the food of the East and West meet and traditions from the Middle East, the Mediterranean, and eastern Europe are elemental components. Feride decided to write a cookbook herself and her five-year labor of love produced Pomegranates & Saffron. The cookbook world is the better for it.
One of the foremost reasons that I love cookbooks is that it brings the world closer bringing foreign cultures into our homes and our hearts. This book is a glorious journey through Feride's eyes and I am so pleased that she has allowed me to write this post and share her brilliance with you.
The cuisine of this country relies on fish from the sea, local meat from the farmers and an abundance of vegetables and greens enhanced by a variety of fresh herbs which is reflected in the dishes in Pomegranates & Saffron.
Photographs of marketplaces, the stunning faces of the people of Azerbaijan and its food are plentiful throughout this title. 200 diverse recipes, as diverse as the history and people of this unique country, are written clearly and with great detail.
Recipes are organized as follows: Appetizers and Salads; Soups and Stews; Lamb and Beef (the main meat sources in Azerbaijan); Poultry and Game; Fish; Vegetables, Fresh Herbs and Eggs; Khengel and other Pasta Dishes; Pilafs; Milk Dishes; Sauces and Condiments; Pickles; Savory Breads, Pies, and Pastries; Pakhlava, Sweet Breads, and Other Desserts; Tea, Sharbat, and Other Beverages; Preserves and lastly a Menu chapter to pull it all together.
Every important occasion in Azerbaijan has a culinary tradition attached, for instance, Novruz, the ancient celebration of the Spring equinox requires a khoncha, a large tray teeming with baklava, nuts and other treats. I loved soaking in all the traditions that is shared in this title; it is a wonderful read in addition to being a stunning cookbook.
Azerbaijani Meatball Soup, Saj-Fried Lamb with Vegetables, Stuffed Potatoes, Ganja-Style Chicken with Eggs, Lemony Sturgeon Bughlama, Gakh-Style Pleated Dumplings and Shekerbura (a stunning pastry filled with a sweet-spicy mixture of nuts, that is crimped into a pure work of art) are some of the examples of the 200 dishes in this recipe collection.
Pomegrantes & Saffron, is a thoughtful, loving in-depth study of Azerbaijan covering its cuisine, people and their traditions. It is little wonder it is an award winning book. It won the Best in the World Gourmand award as well as several other awards. It has won my heart and I'm sure it will win yours.
Feride is graciously sharing her recipe for the Shekerbura with all of you. Just look at those photos – pure art. (One photo shows a photo of her baklava as well – so impressive.)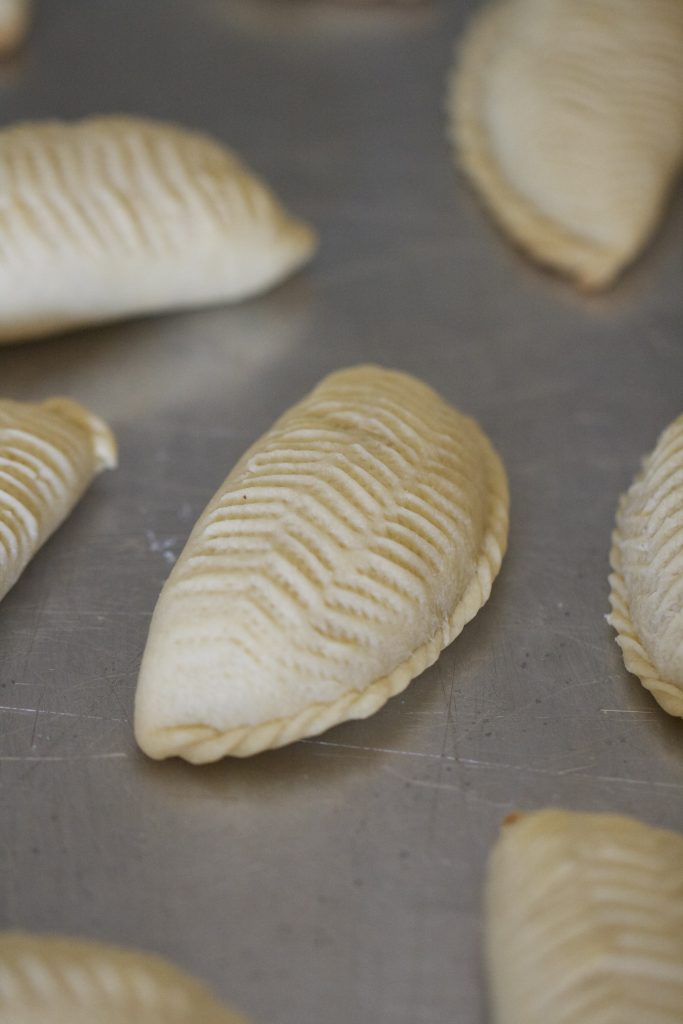 Shekerbura
Makes 40 shekerbura pastries
¼ teaspoon active dry yeast
5¼ cups all-purpose flour
10 ounces unsalted butter, melted and cooled
2 large egg yolks, at room temperature
6 cups peeled almonds, or toasted and peeled hazelnuts or walnuts, finely ground
2 teaspoons ground cardamom 
Pinch of vanilla powder (optional)
Put the yeast and milk in a medium bowl. Stir to mix. Set aside. Sift the flour into a large mixing bowl. Add the salt and stir to mix. Add the yeast mixture, butter, egg yolks, and sour cream. Stir with your hand to mix, then knead the dough for about 5 minutes, until it is smooth. Shape the dough into a ball. Put it back in the large bowl, cover with plastic wrap, and set aside to rest for 15 minutes (the dough is not expected to rise, so do not let it rest for too long).
In a medium mixing bowl, combine the ground nuts, sugar, cardamom, and, if using, vanilla powder. Stir to mix.
Divide the dough into 40 tennis ball–size rounds. Work with the balls in two batches; arrange half of the balls on a tray, cover with plastic wrap, and place in the refrigerator until you are done with the other half. Work with one ball at a time while you keep the rest covered to prevent them from drying out.
 Using a rolling pin, roll each ball into a 3 1/2-inch circle. Place the circle in the palm of your hand and, slightly folding the circle, put 3 teaspoonfuls of the filling in the center, pressing the filling gently with your index finger to pack it inside and to leave the edges clean. Next, starting at one end, begin pressing the edges together to seal. You will obtain a half-moon that is somewhat chubby on the top side and somewhat flat on the bottom. Make sure you do not stretch the circle, or the pastries will end up too big.
Now, using your thumb and index finger, pinch the dough starting from one sealed end, then twist inside. Continue in the same manner until you reach the other end of the seal to obtain a decorated, twisted edge.
Tap the straight side of the pastry (the side opposite the sealed edge) on a flat surface to straighten it and to obtain a perfectly shaped half-moon. Continue working with the rest of the dough balls in the same manner.
To Prepare the Oven and the Baking Sheets:
Preheat the oven to 360˚F. Have 2 ungreased baking sheets ready.           
To Decorate the Pastries:
Holding a pastry in one hand and a crimper in the other, pinch the dough at an angle with the

crimper

and slightly lift it upward. Continue to make very close rows of pinches in the dough until you obtain a repeating pattern. Create parallel rows, each at an opposite angle to the next one (think of a pine tree–type pattern or herringbone), until the entire surface is decorated. Arrange the pastries on baking sheets at a distance from each other.
Bake on the middle rack of the oven for about 15 minutes, or until the bottom is light brown. Take care not to overbake the pastries—their tops should remain white when ready. Allow to cool completely. Store the cooled shekerbura wrapped carefully in kitchen towels, placed in a pot or another container, and covered with a lid.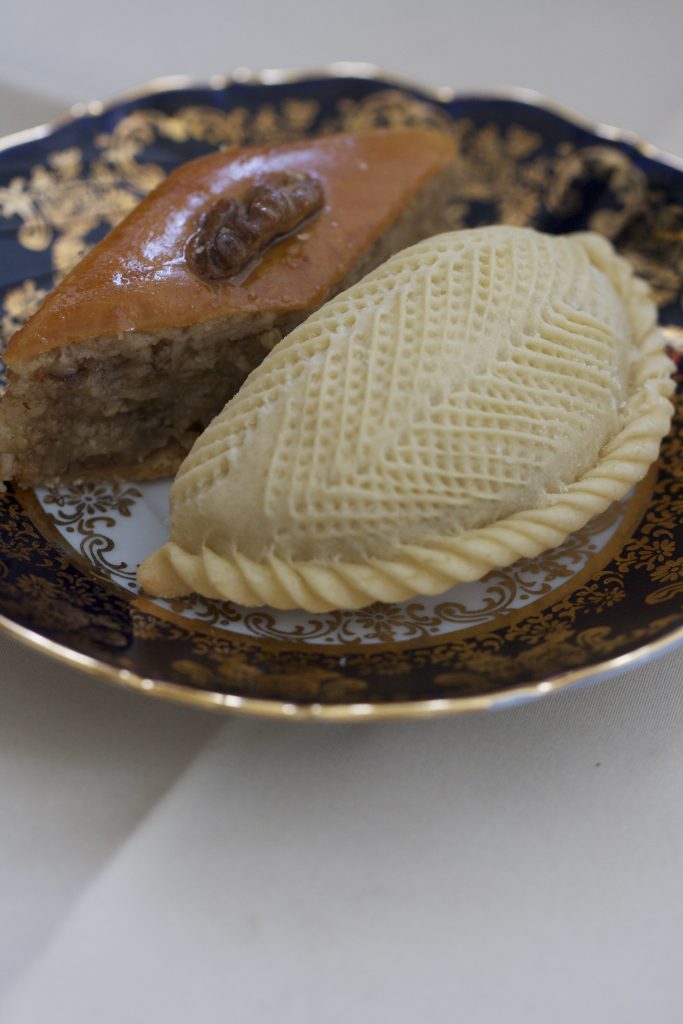 GIVEAWAY:  Feride's generosity knows no bounds – she is offering one of you a copy of this truly gorgeous book. The giveaway is open to U.S. addresses only. To enter, leave a comment telling me something you have learned about this fascinating country.  You may leave a comment daily until a random winner is chosen on July 25th. For a second entry, please share this post on social media – we need to spread the word on this truly stellar book. Lastly, for additional entries, you may visit AZ Cookbook's Facebook page and The Cookbook Junkies Facebook page – likes are not required but appreciated. Random Number Generator picked #69 Tamara Mitchell.
A special thank  you to Feride for her help with this post, sharing her recipe and photos as well as for allowing me the gift of reviewing her book. This title is as special as the author – as I have received a glimpse of her spirit in our communications.