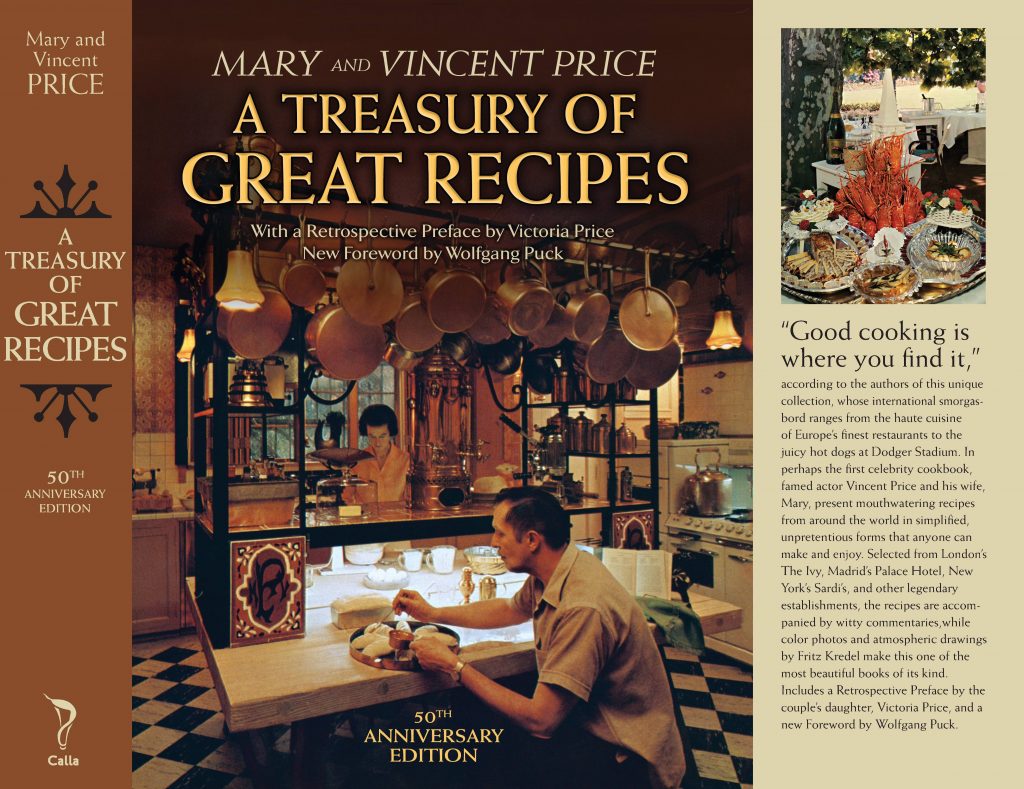 My love for Vincent Price's culinary work is relatively new, I joined the legions of fans clamoring about the magic of The Treasury of Great Recipes roughly two years ago. I'm a Midwest girl, I'm slow coming out of the gate, but once I fall – I fall hard.
In correlation with the release of the 50th Anniversary Edition of A Treasury of Great Recipes, I wrote a piece for TasteBook. You may check out that story here which touches on the popularity of this title. Meeting Victoria Price and learning more about her dad's passions and life was a highlight of 2015 and I was grateful to share that experience through TasteBook.
The anniversary edition is in our hands and it will join a spot next to the original on our shelves.  It is just as lovely as it still has that old Hollywood quality look but on updated stock with sharper photographs.  Fans of the cookbook state that their favorite recipes include the Banana Bread, Amaretto Cake, Luchow's German Pancakes, Yorkshire Pudding and Hollandaise Sauce. Want to make a Bloody Mary or fold a napkin perfectly? The Treasury can help you there. We know these recipes were well tested and prepared repeatedly over the decades by many cooks.
Dover Publications made the 50th Anniversary Edition of this fabulous book possible and I am working with them to offer a great price on cookbooks through the middle of January. To the right, you will find a Dover ad block with a photo of Vincent Price. If you click on that box, it will take you to the cookbook section of Dover's site. If you place an order, you will receive 25% off your total using the promo code shown. Dover has other titles as well – browse while you are there. This is a great deal in time for holiday shopping. Each month there will be a new Dover ad with a new code – be sure to keep checking back.
GIVEAWAY:  To celebrate this collaboration, Dover is generously offering A Treasury of Great Recipes 50th Anniversary Edition to one of you. This giveaway is open worldwide! To enter, check out the Dover site and comment back here letting me know which cooking title looks good to you. For a second entry, please share this post (be sure to leave a second comment). You may come back daily and comment for additional entries. A random winner will be chosen on September 20th. Good luck!
Random Number Generator picked #19 – Marcia R.