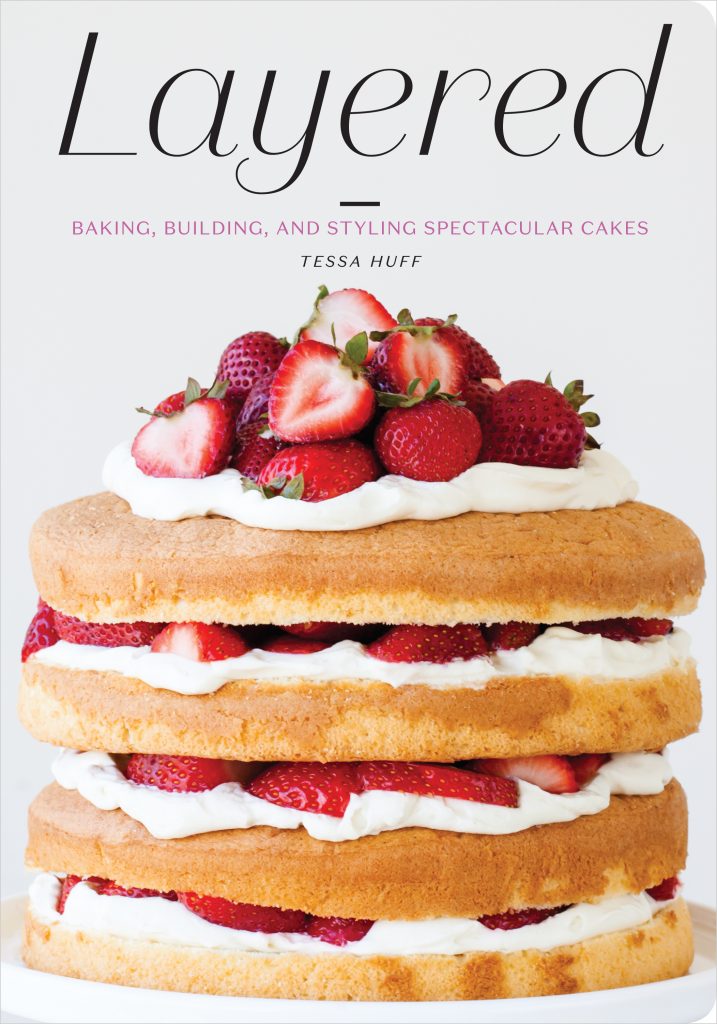 Tessa Huff is a cake whisperer. Her debut book Layered: Baking, Building, and Styling Spectacular Cakes is SPECTACULAR. (Yes, I am shouting!) Tessa is the voice behind the beautiful site Style Sweet CA  the content of which houses a wealth of temptation and inspiration.
Somehow, I missed this book's debut in April – I'm really slacking off. Thank goodness for my good friend, Judy, who righted my wrong and told me three or four times how much she loved the book. After the third, "Did I tell you how much I love this book?", I ordered Layered. The moment I took it from it's wrapping I was smitten. I'm going to order a second copy to stay pristine because this copy is going to get a work out.
At first blush, I was taken in by the stunning photographs – cake is art and Tessa is an artist. Then I read the first few recipes and for a brief moment I thought, "Oh this is a lot of work." That passed quickly, because all good things take a little effort and truth be told, Tessa's instructions are precise, succinct and incredibly easy to follow.
The book is organized with introductory chapters that focus on pantry staples and cake making and decorating techniques. She then breaks out into the categories: Sweet Staples, Classic Cakes, Chocolate Cakes, Casual Ckes, Whimsical Cakes, Adventurous Cakes and ending with Holiday Cakes. She even adds a bonus section containing Three-Tier Wedding Cake and Mix and Match suggestions.
A few examples of cake creations are: Blood Orange Thyme Cake, Red Currant Chocolate Cake, Ultimate Candy Bar Cake and Banana Split Ice Cream Cake. Every cake you will immediately want to bake- and while everyone is impressed with a homemade cake – everyone will be gobsmacked by a multi-tiered, multi-component offering.
For my first bake, I chose the London Fog Cake – a perfect blend of flavors – a chocolate espresso cake, earl grey buttercream and a salted caramel that will rock your world. Roughly, tacking on cooling time, interruptions and life – it took a total of two and a half hours to make (remember I have a lot of interruptions – their names are Jim and Andrew.) While I was making the cake for a dinner the following day, I knew Andrew would pester me to death for a slice, so I made a cupcake version. A best defensive is a good offensive.
The cupcake was shared by the three of us – Jim and I had a small bite and Andrew moaned and groaned while eating the rest. "The best cake you have ever made!" Frankly, he says that a lot – but Jim and I also agreed this time.
I knew there would be no time to get a decent shot when company arrived so I did slice the cake this morning and slid that slice right back into it's rightful spot. It took every ounce of willpower not to eat that slice. The cake is moist and tender, the buttercream is not overly sweet – and the essence of earl grey is just right. The salted caramel is gilding the lily – but the lily loves to be gilded and this addition takes this spectacular cake to unworldly good.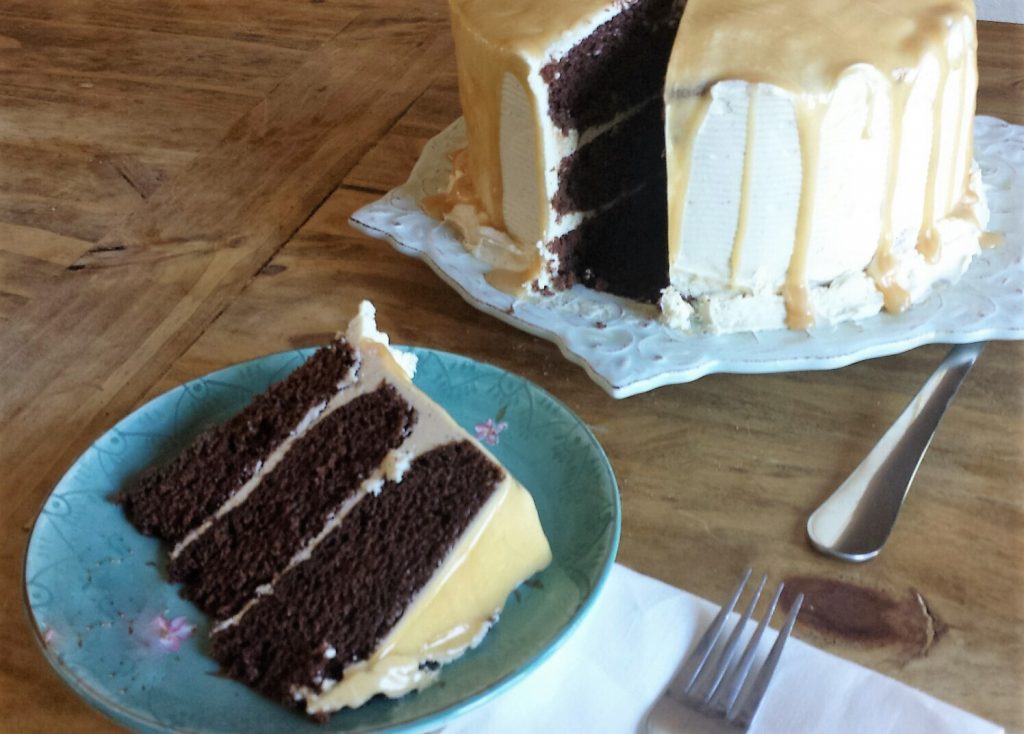 Special thanks to Abrams and Tessa Huff who are allowing me to share this recipe with you. It can be downloaded here London Fog Cake.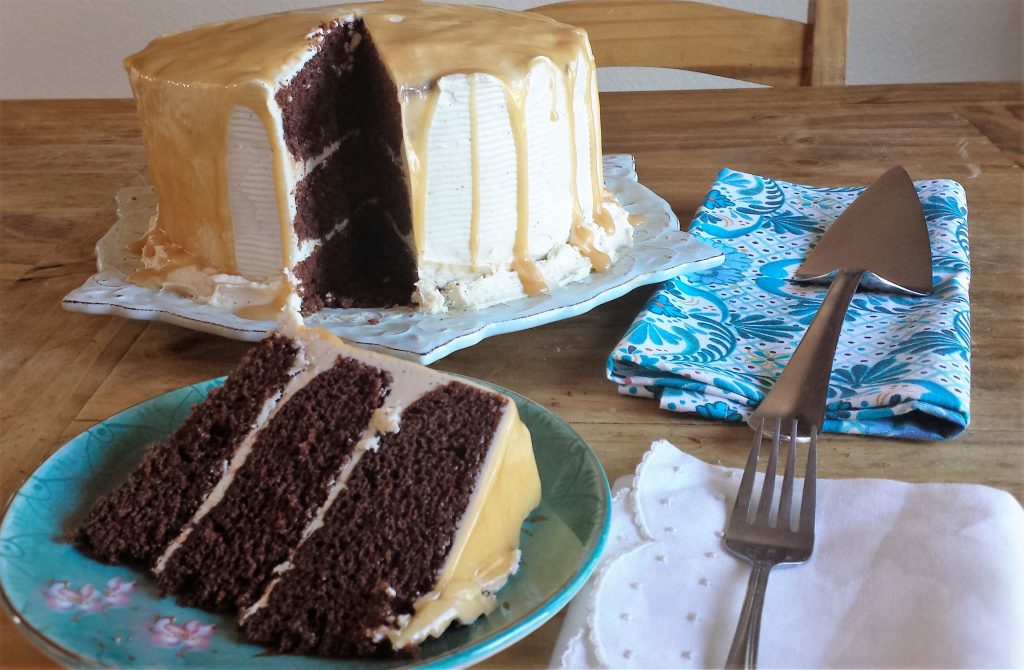 Update: after serving the cake for dessert – I am even more enamored — it cut beautifully and received raves all around.
GIVEAWAY:  Tessa has kindly offered to provide one of you with a signed copy of this book! The giveaway is open to U.S. and Canadian addresses. To enter, leave a comment on this post telling me anything about cake! For a second entry, please share the post on social media and leave a second comment telling me you did so. Lastly, you may return here daily to leave a comment for additional entries. A random winner will be chosen on September 20th.
Random Number Generator picked #42 Katrina!
The link to Tessa's book is an Amazon affiliate link. I purchased this book myself and felt so strongly about its brilliance that I had to do a post about it. We all need this book.
Thank you Tessa for writing this book and sharing with us your recipes for greatness.