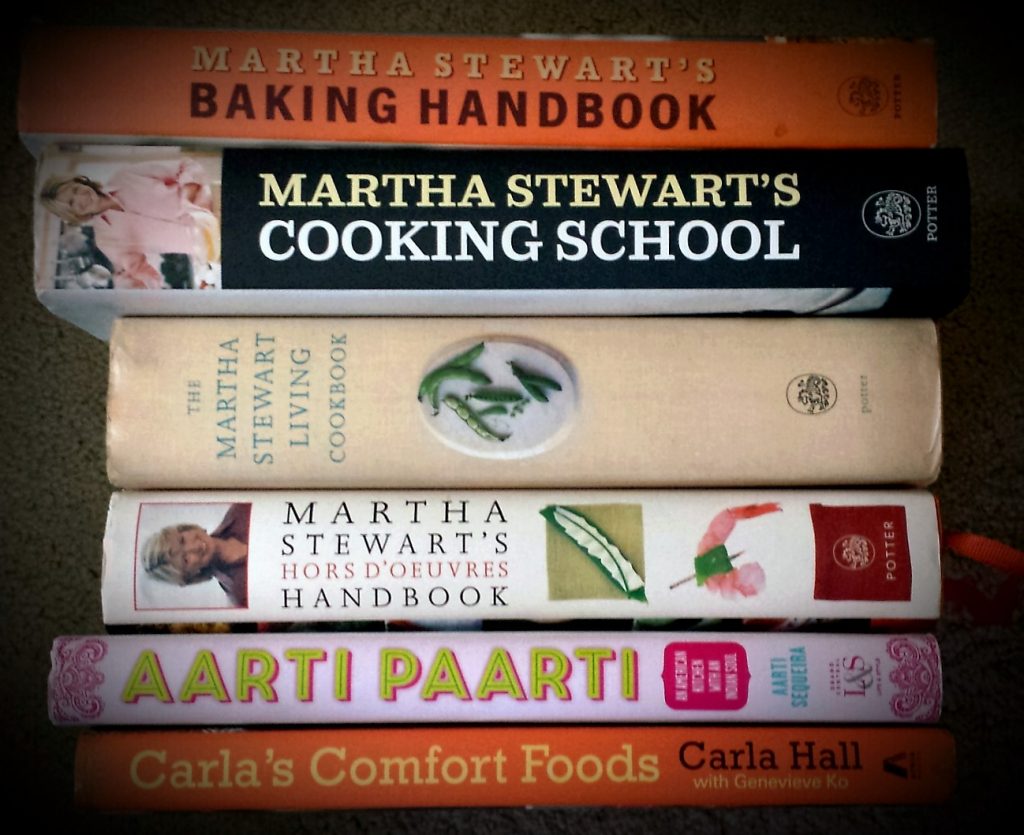 Time for a giveaway to celebrate 35,200 members! I have for you a little old school and a little new school selection: a set of four of Martha Stewart's cookbooks and new copies of Aarti Paarti and Carla's Comfort Food. (Sorry that the Martha's Living Cookbook is a little crinkled on the book jacket – I tripped over it the other night after I got them lined up ready to take a picture. Let this be a lesson to you, don't drink and cookbook (or don't turn the light off at your desk and try to get to the stairs in the dark).
In addition to this set of books, I am going to gift one of you a one year subscription to Eat Your Books (EYB).
I've been writing reviews for EYB for about six months. Recently, I took the position of Cookbook Promotions Manager – writing reviews, contests, author events and more. I've slowly been adding my collection onto my bookshelf – I believe I'm over 600 now and still have thousands to go. One reason I'm anxious to complete my bookshelf is because I have purchased the same book not only twice, but sometimes three times. The cost alone of not buying duplicate books will be recouped in no time.
Of course, you can open an account with EYB for free to enter contests – but for $30.00 a year – a little over the price of a book – you receive incredible value including access to forums and other members' reviews of recipes. I'm copying this explanation of what EYB does from their website for you here:
"Eat Your Books is a website for people who love cookbooks and love to use great recipes. If you have a cookbook collection, you probably get a lot of pleasure from browsing your books – but there are times when you haven't got time to look through them all to find a recipe. Or maybe you feel you're not using them as effectively as you'd like, sticking to familiar recipes or not branching beyond the current favorites.
Eat Your Books can help you find recipes in seconds, we're the only website to have indexed the most popular cookbooks, so you can include them in your online searches. You might also like to use recipes from other sources, with Eat Your Books you can do a single search across ALL your recipes no matter where they are.
With Eat Your Books you can create your own personal Bookshelf and you can find recipes across:
Your cookbooks – tell us which cookbooks you own. If we haven't indexed a favorite book, use the EYB indexing tools and do it yourself.
Your food magazines – add that stack of magazines, all the most popular magazines have been indexed.
Great food blogs and websites – add Food52, David Lebovitz, Smitten Kitchen, 101 Cookbooks and many more.
Your own personal recipe clippings – bring some order to your clippings files by using the EYB indexing tools.
Your favorite online recipes – using the EYB Bookmarklet – add any online recipe to your collection.
Eat Your Books is NOT a recipe site, so you won't find the recipes here, but you will be able to find them and if there is an online version of the recipe there will be a link to it."
The benefits to cookbook authors and publishing companies to work with Eat Your Books are multifaceted. EYB not only indexes the books for their members but we also promote the books through a weekly roundup post, monthly roundup post and newsletter, giveaway posts and author articles. As a member of EYB, you will receive all this information as well.
Giveaway:  To enter this giveaway: leave a comment here telling me something about your collection. You may return and enter daily with a comment. For a second entry, you can share this post on Social Media at any time during this giveaway. For purposes of shipping the books – this giveaway is open to US addresses only. If you live outside the U.S. and want to enter for the EYB membership chance – do so – if you win – I will gift you the EYB membership and pick another winner for the books. Accordingly, if you are outside the U.S. just leave a comment to that effect on your entries. A random winner will be chosen on October 4th. Good luck!
Random Number Generator picked #72 – Dani.