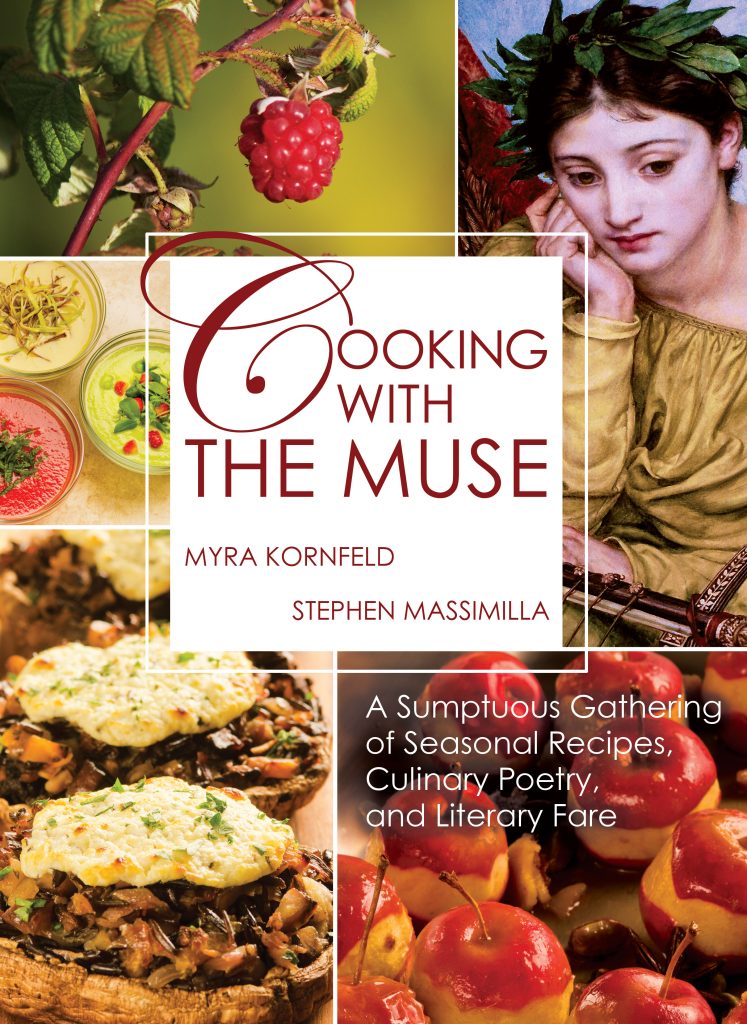 Lucky you, I have a lovely book to write about today, Cooking with the Muse by Myra Kornfeld and Stephen Massimilla. This title released earlier this year is a beautiful book warmed with poetry, packed with historical facts about food writing and ingredients, and the recipes are a varied collection of comfort food, elegant offerings and everyday fare.
Myra Kornfeld is a chef, educator, and author while Stephen Massimilla is a poet, scholar, professor, and painter – and together they joined their incredible talents and created this masterpiece of food and the written word. Poetry and essays are scattered through this volume, falling onto the pages to surround the recipes and pull everything together.
There are dishes that contain an international flair such as Medallions of Dukkah-Crusted Chicken Breasts Stuffed with Spinach, Moroccan Braised Lamb Shanks or Short Ribs, and Creamy Carrot-Coconut Soup with Hot and Sweet Coconut Cashews. Desserts that will have you preheating the oven in no time include Fudgy Nibby Brownies, Chocolate Tart with Salt, Pumpkin Pie Souffle and Caramelized Pecans and Capri Peach Tart. Yam Waffles with Maple-Pecan Butter, Shepherd's Pie with Colcannon Topping and Moroccan-Spiced Bastilla with Chickpeas Turnips, Cabbage and Vermicelli – every page holds something  delectable to excite your palate or engage  your mind.
Cooking with the Muse will be a valued addition to your collection for it's fantastic content as a literary work and it's delicious collection of recipes that are approachable by any level cook. Thanks to the author for allowing me to share one of their recipes. The recipe for Polenta Baked Eggs can be downloaded at this link: recipe here.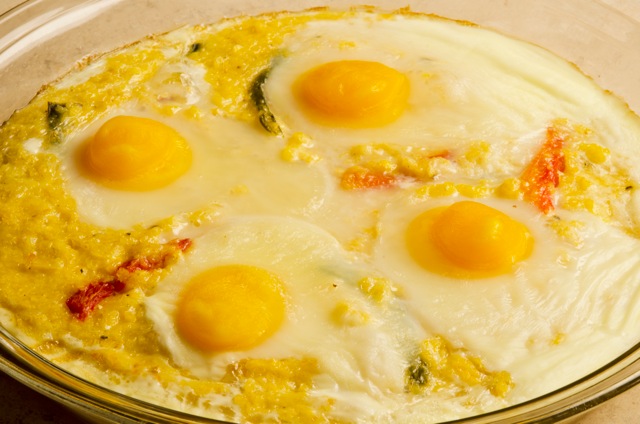 GIVEAWAY: The authors are generously offering one of my readers an autographed copy of this gorgeous title. (I'll be reaching out for a bookplate to add to my copy).
Random Number Generator picked #48 Tina!
The giveaway is open to US addresses only.
To enter:
1. Leave a comment on this post telling me which recipes sounds like something you would like to make. (You may return here daily and leave another comment to enter – telling me hello.)
2. For a second entry share this post on social media. We need to spread the word about this book. Sharing icons are below the post to make it easier for you. Sharing on multiple platforms will provide you with a second entry.
3. For a third entry, visit Cooking with the Muse's Facebook page. Likes are very much appreciated.
4. For a fourth entry, visit The Cookbook Junkies Facebook page. Likes are very much appreciated.
A random winner will be chosen on October 17th. Good luck and spread the cookbook love!