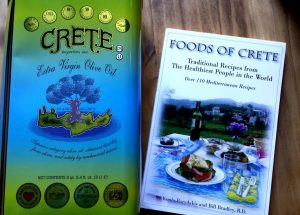 I've been a fan of Mediterranean Living for a few years now and love their 7 Day Mediterranean Diet Meal Plan that is available as a free download on their site here. Mediterranean Living even wrote about The Cookbook Junkies here!
Foods of Crete written by Koula Barydakis and Bill Bradley, R.D. is a cookbook containing 110 traditional recipes from the Island of Crete. Crete has the lowest rates of heart disease and the highest longevity rates in the world – they must be doing something right. The recipes, using fresh ingredients, are simple and delicious.
I pulled this information from the Mediterranean Living site on how this cookbook came about:  "On a two month research trip to the Mediterranean island of Crete, Bill Bradley, Registered Dietitian, lecturer, and founder of Mediterranean Living discovered many of the longevity secrets that make Crete one of the healthiest places in the world. Bill traveled into mountainous villages to interview people living vibrant lives well into their 90's, in order to learn their daily and lifelong habits. While in Crete, Bill met Koula Barydakis, a Cretan chef who had been cooking in various Greek restaurants for most of her life. Together, they wrote "Foods of Crete: Traditional Recipes from the Healthiest People in the World".  The book contains 110 delicious and easy-to-make recipes, passed down through generations of Koula's family. Favorites include: Zucchini Fritters; Tzatziki; White Bean Soup; Tomatoes with Feta Cheese; Grape Leaves; Egg Noodles with Walnuts and Basil; Salmon with Yogurt and Rosemary; Lamb in Wine Sauce; and Chicken, Egg, and Lemon Soup. The recipes are organized into sections for meat eaters, vegetarians, and vegans."
Christine of Mediterranean Living is a good friend and we exchange packages frequently.  Recently, I was gifted with olive oil soap and olive oil. The soap is great. Denver is dry and this soap has done wonders for my skin. My husband has even taken to using the soap and loves it.
Today, I broke open the Crete Extra Virgin Olive Oil and it was incredibly delicious, light and refreshing. First up, we had some with fresh bread and enjoyed it.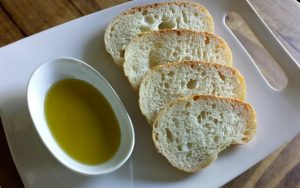 Next, I used the olive oil to fry up the Zucchini Fritters from the book – and the fritters were crisp, light and delicious. My 11 year old loved the fritters, I ate so many I had to share them with my neighbors to avoid eating them all. They are a great appetizer or would be great served along with a salad for a meal.
SPECIAL PROMOTION:  My friends at Mediterranean Living are offering my readers a special promotion – usually the cookbook and oil are $71 including shipping but using this link the total would be $55 with free shipping. That is a wonderful savings. The olive oil is delicious and a whopping three liter tin and the cookbook is wonderful!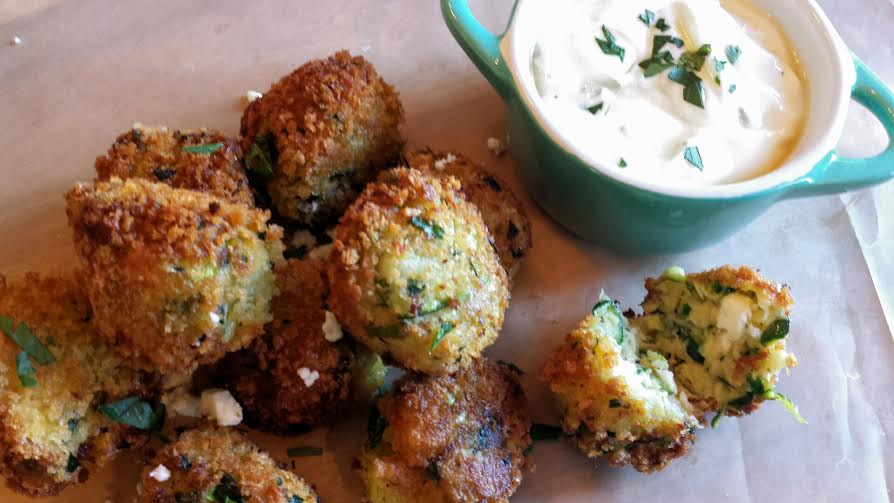 Thanks to Mediterranean Living for sharing the recipe for these amazing fritters with us.
Zucchini Fritters
(can be frozen uncooked)
5 medium zucchinis, grated
1/2 tablespoon of salt
4 eggs
1 cup cheddar cheese, grated
1/2 cup feta cheese, grated
3-4 cups of bread crumbs
1 cup onion, grated
1/2 cup fresh mint leaves, chopped
1 cup fresh parsley, chopped
1/4 teaspoon freshly ground pepper
Olive oil for frying (about 1 cup)
1. Place grated zucchini in a colander. Add 1/2 tablespoon of salt, mix and let drain for 30 minutes. After 30 minutes, squeeze out extra liquid with hands. (Note: I used a tea towel after squeezing with hands to get more water out.)
2. In a large bowl, combine zucchini, 2 eggs, cheeses, 1 cup of bread crumbs, onion, mint, parsley and pepper. Mix well. Add more bread crumbs until mixture can be formed into balls.
3. Beat 2 eggs in a small bowl.
4. In another bowl, add 1 cup of bread crumbs.
5. Heat one cup of olive oil in a frying pan.
6. Form balls of zucchini mixture, dip each ball in egg, then bread crumbs, then fry. (Note: I fried about a minute on each side — kept flipping the balls until all sides were nice and browned.
7. Drain on paper towels.
To freeze fritters:
Form into patties and put uncooked fritters onto a lightly floured tray. Leave them in freezer for a day and then put them in a plastic bag for long term storage. To cook: Defrost for 20 minutes and then fry them in olive oil.
My notes: I sprinkled a little crumbled feta, parsley and mint on top to serve and I made a dipping sauce with some inspiration from my friend, Jean. The dipping sauce:  5.3 oz. of Greek yogurt (I used one Chobani container), sprinkle of mint, parsley, touch of honey, lime zest and the juice of half a lime. It was tart and delicious. I had halved the fritter recipe so this sauce was plenty for that amount. If you make the entire recipe – you would probably double this sauce.
GIVEAWAY:
Random Number Generator chose Renee Joslyn #21 – congratulations – Renee send your email address to icywit@gmail.com.
Mediterranean Living is generously giving one of you a copy of Foods of Crete as well as some of their fantastic Crete Extra Virgin Olive Oil (they will provide a coupon code that will allow you to order both products with free shipping.) The giveaway is open to U.S. residents only and will run through September 27th. To enter leave a comment on this post telling me what your favorite Mediterranean dish is. For a second chance, visit Mediterranean Living's Facebook page (like it and you'll receive great recipes and information) and leave a second comment telling me you visited.