My friend, Miriam Pascal, creator of OvertimeCook.com published her first book, Something Sweet! Congratulations, Miriam!
Something Sweet, Desserts, Baked Goods, and Treats for Every Occasion just hit the shelves and it is a keeper! The recipes are approachable, look delicious and vary from cookies and muffins to showstopping desserts.
Oatmeal Cookie Wedges, Snickerdoodle Bundt Cake, Grandma's Sweet Yeast Dough, Fruit-Filled Pastry Roses, Chocolate Chip Peanut Pie, Cookie Dough Fudge Pie, Salted Chocolate Peanut Butter Tartlet and the Hot Gooey Caramel Pie (recipe below) are some of the recipes I have marked to try soon.
There is a chapter devoted to Party Treats which includes recipes for Pretzel-Crusted Peanut Butter Cheesecake, Neopolitan Zebra Cheesecake, Pecan Pie Cigars, Rice Krispie Treat Truffles and more. Miriam even includes a chapter on drinks!
Gingerbread Biscotti and Lemon Olive Oil Biscotti will be hitting my holiday baking list this year. This book is packed with great looking sweet treats for any occasion. Another plus, are the beautiful photographs to accompany every recipe.
Start here by trying a recipe for Gooey Hot Caramel Pie courtesy of Miriam and her publisher, Me'sorah Publications, ltd.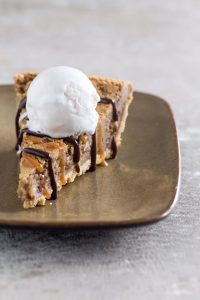 Hot Gooey Caramel Pie
Dairy or Pareve Yield 2 pies, each 8-10 servings
2 sticks (1 cup) butter or trans-fat-free margarine
8 oz cream cheese or soy cream cheese
1½ cups brown sugar
¼ cup light corn syrup
2 eggs
1 teaspoon baking soda
2 teaspoons vanilla extract
1½ cups flour
1 cup caramel chips
2 ready-made graham cracker pie crusts
vanilla ice cream, for serving, optional
Caramel Sauce for serving, optional
Heat oven to 350°F.
In the bowl of an electric mixer, on medium speed, cream together butter and cream cheese until smooth. Add brown sugar and corn syrup; beat until smooth and creamy.
Add eggs, baking soda, and vanilla, beating to combine after each addition.
Reduce mixer speed to low; add flour. Beat until combined. Stir in caramel chips.
Divide batter between pie crusts. Bake for 30-35 minutes, until the center is just set (it will still be jiggly).
Serve warm with ice cream and caramel sauce (optional).
Note As the name suggests, the pie is gooey— and it doesn't cut into the neatest slices when warm. For a fancier presentation, make mini pies (see Variation) or serve it closer to room temperature, when it won't be as gooey.
Variation For neater serving, bake in mini graham cracker crusts or ramekins for 22-24 minutes.
Plan Ahead This pie freezes well in an airtight container. Defrost and reheat before serving.
Random Number Generator chose comment #33 Devorah! Congratulations – please see the email I sent to you!
GIVEAWAY:  Special thanks to Miriam Pascal and her publisher, we have a copy of Something Sweet for one of you. The giveaway is open to U.S. addresses only and will run through September 27th. To enter leave a comment here telling me which recipe from this book sounds the most tempting! Good luck!