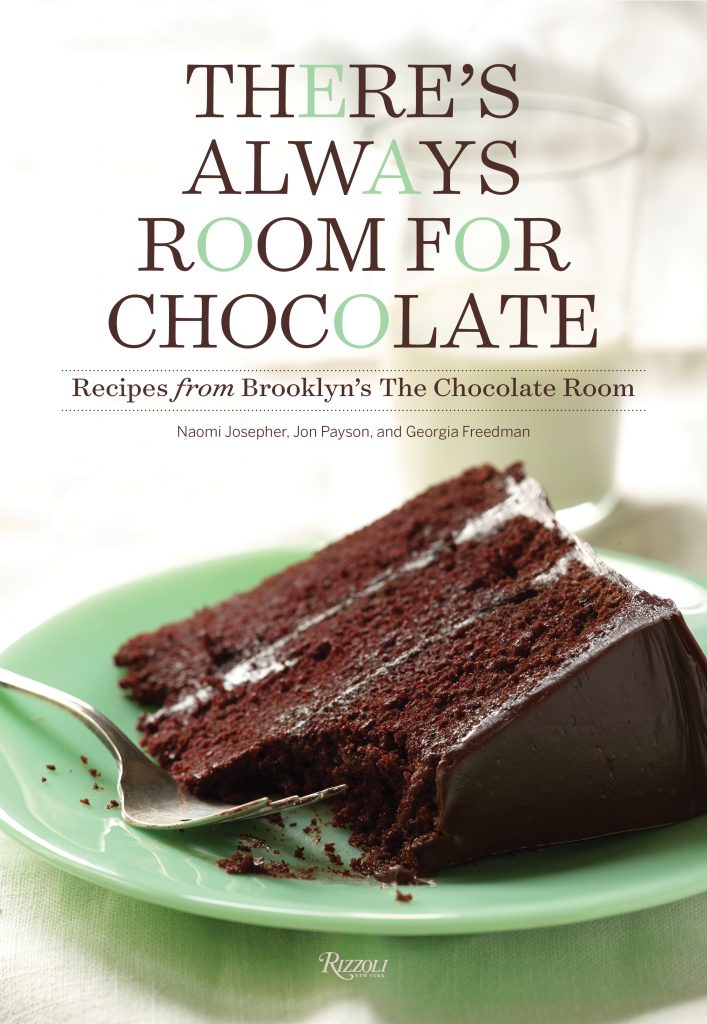 There's Always Room for Chocolate – the title says it all – and most folks would agree. This new cookbook is written by the owners of the The Chocolate Room, married couple Naomi Josepher and Jon Payson's, who share some of their coveted recipes.
The Chocolate Room has two locations in Brooklyn and is touted as a "sophisticated malt shop". Famous for their Brownie Sundae, Chocolate Layer Cake and Spiced Hot Chocolate, this shop is every chocolate lover's dream. Can't get to Brooklyn? No worries – now we can recreate these decadent recipes in the comfort of our own kitchens.
What impressed me right off the bat is the index at the beginning of the book listing recipes by their time commitment: set out as follows "Quick Gratification" "Intermediate Creations" and "Weekend Projects". I often get so excited to try a recipe – I fail to allot the time required for the dish and end up rushing the job.
The recipes are organized by Cakes, Baked Goods, Pies, Puddings & Custards, Confections and ending with Drinks & Accompaniments. Instructions on how to assemble and frost a showstopping cake are highlighted as well as other helpful tutorials throughout the book – such as how to use a pastry bag. Chocolate Pineapple Upside-Down Cake, Chocolate Hazelnut Mousse Cake and a Peanut Butter Cheesecake are a few examples from the cake chapter. I love the construction instructions plus diagrams for assembling the Chocolate Mousse Cake – they leave nothing to chance.
Other recipes that caught my attention (well all of them did – but ones I should mention) are Chocolate Canoes with Vanilla Cream Filling, Black-Bottom Butterscotch Custard, and Chocolate-Dipped Coconut Macaroons. There are also recipes for sauces, crusts, ice creams and much more.
I made the Chocolate Pecan Pie and it disappeared. I made it in a tart pan so that I could make a few mini tarts to ward off the chocoholic hulk that transforms when he smells me baking (he's 12, his name is Andrew). I've made many pie crusts before but this one was by far the best. It was incredibly easy to work with – I've had delicious, flaky crusts from other recipes but none that rolled out so perfectly.
Special thanks to the authors and Rizzoli for allowing me to share the recipe here.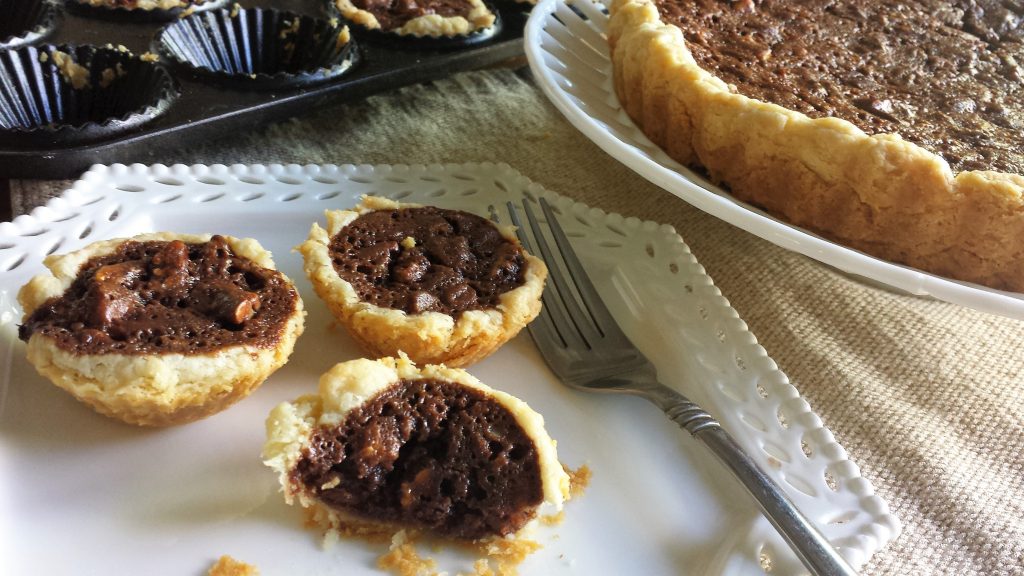 This pie was not cloyingly sweet like some pecan pies are – I love their method which made it more like a decadent brownie-like pecan pie. I'm not a fan of chocolate pecan pie, or I should say, I have never been a fan of chocolate in my pecan pie – and that has now been rectified.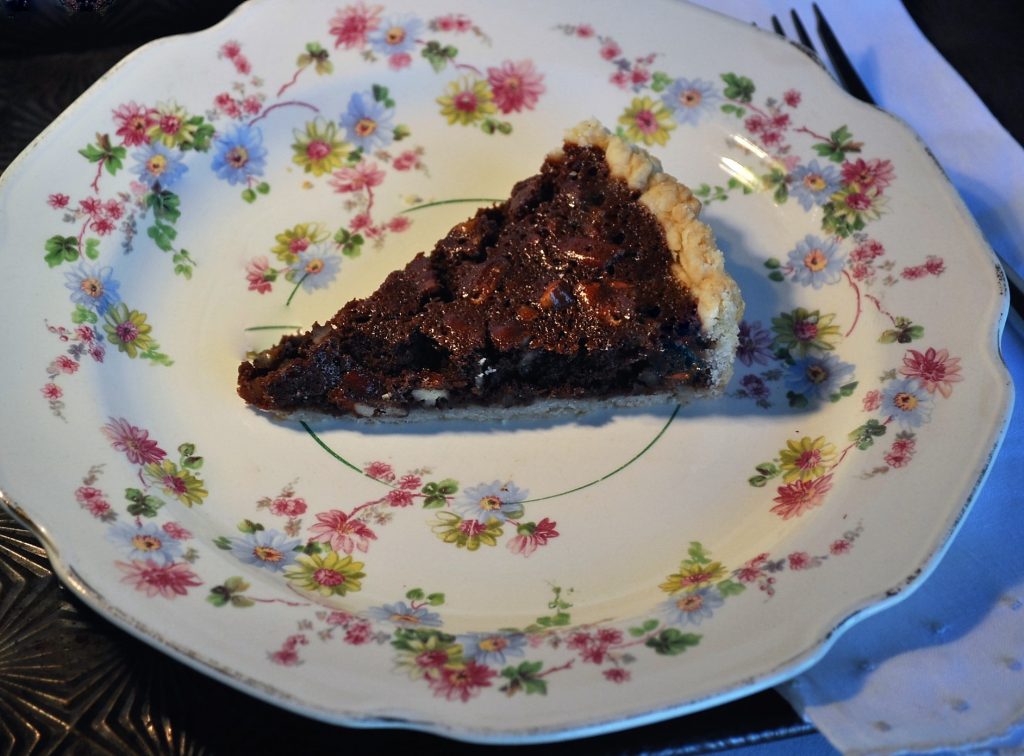 Chocolate Pecan Pie
Makes one 10-inch pie (Jenny's note: that magically disappears)
There's something decadent about adding a little bit of chocolate to a classic like pecan pie. The long-loved flavors are still there, but they're amplified just a little bit by the richness of the chocolate. We make this pie with a regular pie crust instead of our usual chocolate crust; we think the classic flavor and flaky texture adds a nice traditional touch. If you're particularly partial to the crisp, candylike surface that forms on top of the pie, you can use this same recipe to make an 11-inch tart, which will give you a wider surface area.
1¼ cups all-purpose flour, plus extra for dusting
½ teaspoon salt
½ teaspoon granulated sugar
½ cup (1 stick) unsalted butter, cold, cut into small pieces
¼ cup ice water
Filling
2½ ounces dark chocolate (preferably 60% cacao), coarsely chopped
3 tablespoons unsalted butter
½ cup granulated sugar
¾ cup light corn syrup
2 extra-large eggs
1 teaspoon pure vanilla extract
¼ teaspoon salt
1½ cups pecan halves
The key to flaky pie crust is to keep the butter very cold. After you've cut the butter into little pieces, it is best to leave it in the refrigerator until just before you use it.
Make the Crust
In a food processor, combine the flour, salt, sugar, and butter and process for about 10 seconds, until the mixture resembles coarse meal. Drizzle in the ice water 1 tablespoon at a time, pulsing the processor a couple of times after each addition. Stop when most of the dough comes together into a single clump. Turn the dough out onto a clean work surface and knead it two or three times so that it all comes together. Shape it into a flat disk, wrap it in plastic wrap, and refrigerate for at least 1 hour.
On a lightly floured surface, roll out the dough into a 12-inch circle. Fit the circle of dough into a 10-inch pie pan and tuck the overhanging dough under to fit snugly along the top edge of the pie pan. Pinch the edge of the crust to create a wavy pattern. Cover the crust with plastic wrap and refrigerate for 20 minutes.
Make the Filling
Melt the chocolate and butter together in the top of a double boiler, stirring to keep the chocolate from burning, or microwave them together in 30-second intervals, stirring after each interval, until they become liquid. Whisk the butter and chocolate briskly until combined, then set aside to cool a little.
In a small saucepan, heat the sugar and corn syrup over medium heat, stirring to dissolve the sugar. Bring the syrup to a boil, then immediately remove from the heat to keep the mixture from bubbling over. Set the syrup aside to cool a little.
Put the eggs in a large bowl and beat with a whisk until smooth. Add the chocolate mixture and whisk to combine; while whisking, drizzle in the sugar syrup, then add the vanilla and salt. Fold in the pecan halves with a wooden spoon.
Assemble and Bake the Pie
Preheat the oven to 350°F. Pour the filling into the chilled pie shell. (It will not fill the pie shell.) Place the pie plate on a sheet pan to catch any filling that bubbles over. Bake the pie for 1 hour, until the crust is golden, the filling doesn't wobble much when you shake the pan, and the edges of the filling have a bubbling, crisp texture. Allow the pie to cool thoroughly before serving.
Make Ahead
The raw pie crust can be frozen for up to 1 month. The filling, without the nuts in it, will keep in the refrigerator for up to 1 week. The baked pie can be refrigerated for 3 to 4 days.
Disclosure: Special thanks to Rizzoli for sending me a copy of this book for review and for allowing me to share this scrumptious recipe. The Amazon link is an affiliate link and helps to support this site. Amazon, Book Depository and Dover Publication links are all to the right side bar.