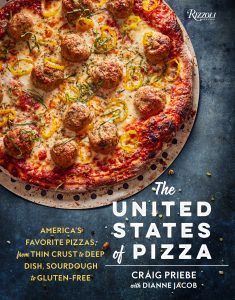 The United States of Pizza by Craig Priebe and Dianne Jacob hit the shelves this month. Chef Priebe traveled the United States to find the best pies from local pizzerias discovering that region has its own style. From deep dish, cracker crust to gluten-free crust, sauces and toppings — this cookbook covers it all.
Recipes for Spring Lamb Sausage Pizza (California), White Bean Puree Pie with Asparagus (Seattle), Hot Brown (Kentucky), Grilled Pear Pizza (New Hampshire) and Acapulco Verde Pizza (Idaho) show the range and variety of pies covered. Beautiful photographs accompany most recipes and the series of photographs on dough shaping are particularly helpful.
Deep – Dish Reuben Pizza with Zucchini Pickle Relish (Portland, Oregon) and Green Chile Pork Pizza (Denver, Colorado) will be on our dinner table in the near future.
The Baked Mac & Cheese Pizza (below) from Jimmy The Greek's in Old Orchard Beach, Maine looked incredible. Special thanks to Rizzoli for sharing the recipe for this carb loading delight: Whole Wheat Pizza Dough and Baked Mac and Cheese.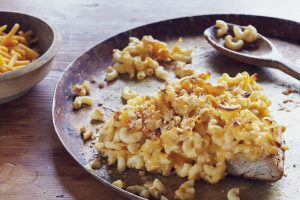 Random Number Generator picked #48 – Lisa — an email has been sent!
GIVEAWAY:  
Thanks to Rizzoli – I have an extra copy of this cookbook for one of you. The giveaway is open to U.S. addresses only and will run through October 9th when a random winner will be chosen. To enter, leave one comment on this post telling me if you make homemade pizza in your home and if so what is your favorite! Good luck!