A few weeks ago I was able to attend a Sprouts Farmers Market blogger event at the Colorado Beef Council. I have to confess I have never been a huge fan of beef – I blame this on my mother and the chewy, flavorless roasts she would serve us and every other chewy, flavorless roast I had to endure in my lifetime. My husband states that I make a mean roast and a great steak – but I usually just eat the vegetables I make when I make those types of dinners for him – I had no desire to eat beef products – until now. The Colorado Beef Council and Sprouts have converted me forever.
Sprouts Farmers Market sells only grass fed, hormone free beef. They ground beef in-house using only muscle meat. And I have to say, I buy the majority of my meat and produce at Sprouts and it is always far superior to any other markets. Sprouts will also cut meat to order. In fact, today I picked up my organic turkey from Sprouts – completely boned. I also requested the bones to make stock and they happily wrapped those up for me as well. They provide this service at no extra charge to their customers.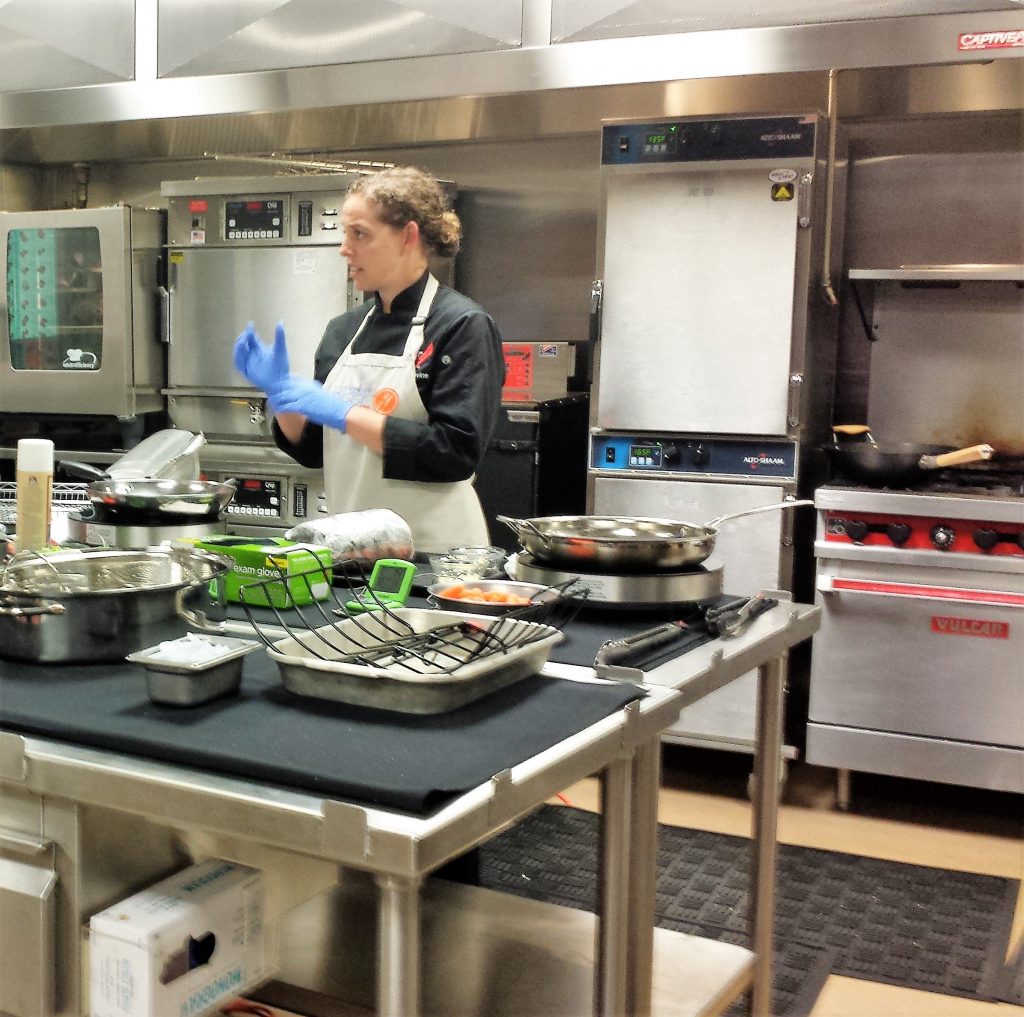 The Beef Council's kitchen is my dream kitchen. Stainless everywhere, open shelving and lots of room. Above, is our first instructor, Marcie, who is the lead tester for the Beef Council.
Marcie explained to us about using rubs to add flavor, the three methods of searing – in a hot pan, a hot oven at the beginning of cooking or in a hot oven at the end of cooking. I, myself, always sear in a hot pan – I just feel more control in that method. I also bring the protein to room temperature – about 30 minutes. The rub that we used for the roast we worked with was salt, pepper and minced garlic. Marcie also had the team working on a cranberry jalapeno relish that was out of this world good. Recipes for those dishes can be found at the links given.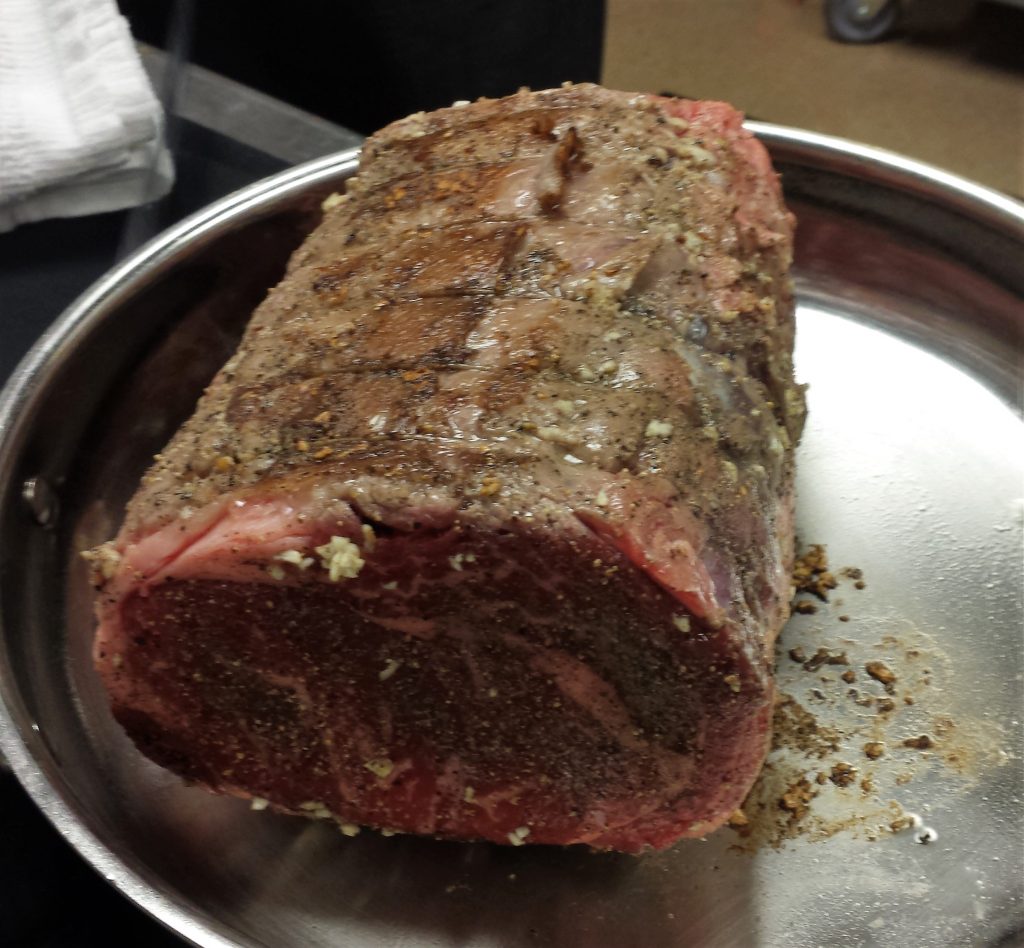 Marcie went over the types of racks that can be used – the basic roast rack (All-Clad is always my preference), an adjustable rack for different size proteins or in a pinch you can crinkle up a large sheet of foil and make an S shape to place on the bottom of your roasting pan. I, typically, use vegetables – carrots, onions and potatoes – to keep my roast from sitting on the bottom of the pan and the bonus there is added flavor the drippings deliver to the vegetables.
Our second instructor, went over compound butters that can add additional flavor to our finished roast. My group was able to work on that portion of the meal. The Beef Council kindly shared their recipe with us for our readers:
1 stick unsalted butter (room temperature)
½ teaspoon chipotle powder
¼ teaspoon pepper
¼ teaspoon onion powder
¼ teaspoon cumin
½ teaspoon or the zest of one orange
Salt to taste
Mix all the above ingredients together to combine and then place onto a sheet of parchment, plastic or wax paper to make a log and refrigerator. When ready to use, cut into rounds to serve atop your finished roast.
Our final instructor went over pan sauces and plating. I'm a huge fan of pan sauces – they add so much to the meal and I make them frequently for all proteins.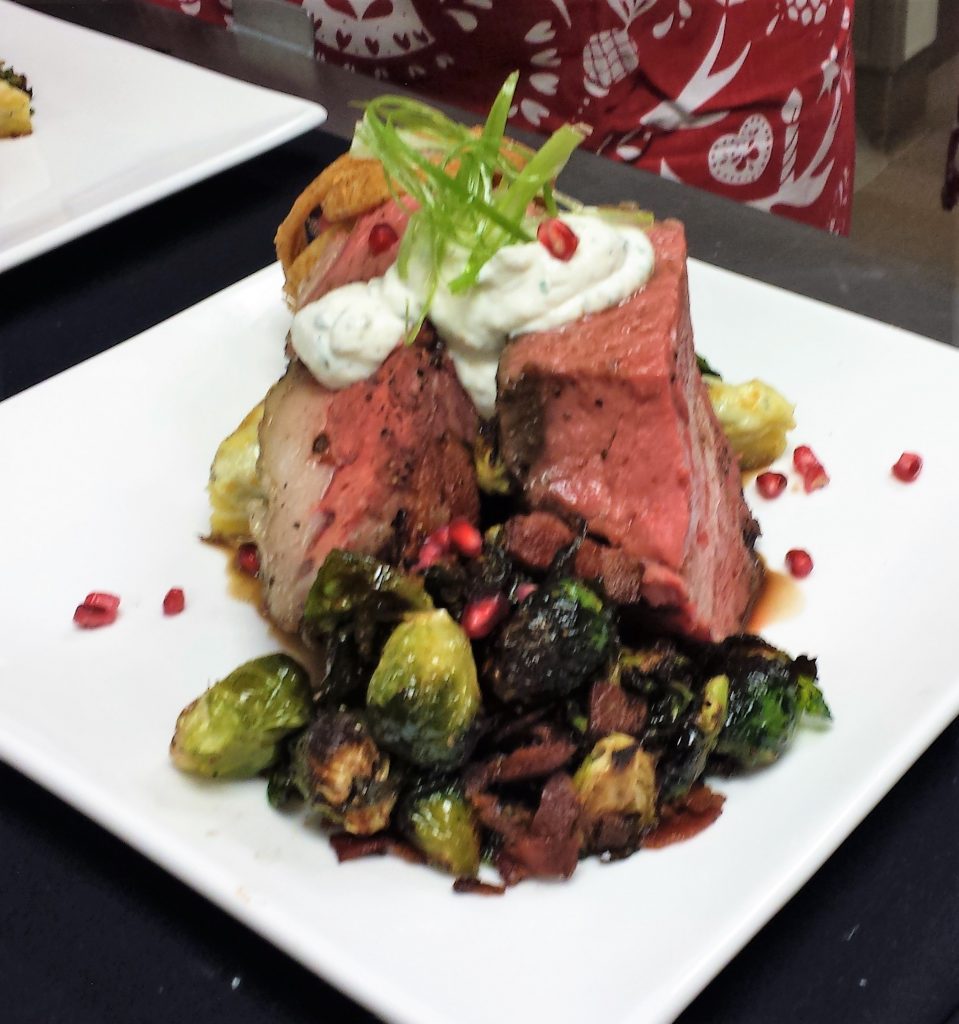 I jokingly asked if the plate of food above was for an entire family – the chef didn't laugh.
The recipes for the restaurant quality meal shown in that photograph can be downloaded at this link. Everything on this plate was absolutely delicious and the roast made me fall for beef. I was lucky enough to take home a nice piece of prime rib and two servings blue cheese potatoes for my husband. We had that meal the next day – yes, we, because I made him share. He is not a fan of prime rib – although he loves beef – and even re-heated he raved about the taste and flavor of our dish. This has to do primarily with preparation and the quality that comes out of Sprouts' meat department.
I hope to prepare the entire meal again for the holidays this year. The compound butter, relish and horseradish cream add so much to a meal – any one of these condiments can elevate your dish.
Thanks to everyone at Sprouts Farmers Market and the Colorado Beef Council for this wonderful learning experience. To keep tabs on new recipes be sure to follow the council on twitter and Facebook and keep up with Sprouts on twitter and Facebook.