Mary and Vincent Price's Come into the Kitchen Cook Book is being re-issued by Calla/Dover this month. I have an original edition in my collection as well as the new release that shares a new foreword by Victoria Price and an introduction by Darra Goldstein, Founding Editor of Gastronomica.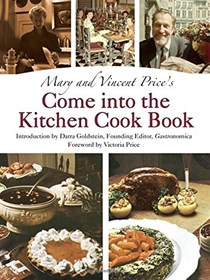 Come into the Kitchen is a collection of American recipes that cover four centuries. There is also the story of wine making in America as well as helpful information on how to shop for wines and make them at home. Delightful illustrations fill the book as well as historical photographs – that make this book more than a cookbook but also a conversation starter and perfect for those school projects we have to cook for at times. From Recipes of Early America through Recipes of Modern America, each era provides recipes and information that will interest everyone in the family.
I am working with Dover to offer a great price on cookbooks through the middle of January. To the right, you will find a Dover ad block with two book covers. If you click on that box, it will take you to the cookbook section of Dover's site. If you place an order, you will receive 25% off your total using the promo code shown. Dover has other titles as well – browse while you are there. This is a great deal in time for holiday shopping. Each month there will be a new Dover ad with a new code – be sure to keep checking back.
GIVEAWAY: Dover is offering two of my readers a chance to win a copy of Mary and Vincent Price's Come into the Kitchen Cook Book. This giveaway is open WORLDWIDE. To enter, leave a comment on this post (you may enter daily). For a second entry, please share this post on social media. This giveaway will run through December 10th. Good luck! Random Number Generator picked Lorraine and Connie! Congratulations!