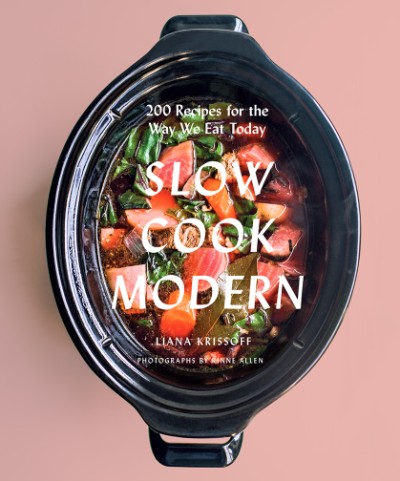 Confession time – I have never been a fan of the slow cooker. Personally, I felt that the food produced was one-dimensional, that flavors were leeched out of the ingredients and to me everything tasted the same. I tell a story where I remember my mom tossing a beef roast in an avocado colored slow cooker, covering it in water, adding no spices, seasonings or aromatics and letting it cook all day. My mom wasn't much of a cook – but she would have made a fine cobbler as that meat would have been one sturdy pair of shoes.
Today we have better quality appliances and books being written that address that way today's cook likes to cook and more importantly, eat! One such book that I am quite taken with is Slow Cook Modern by Liana Krissoff . The recipes totally speak to me – international flavors and spices, complex dishes with loads of recipes for accompaniments to the slow cooker meal that aren't made in the slow cooker.
Liana shares one crave-worthy dish after another such as Kasoori Methi Chicken (with a recipe for Boy Choy Brown Basmatic Rice as an accompaniment), Curried Pork Loin, and Garlicky Pork Ribs Soup with Tamarind and Greens. I am in the middle of house hunting – which has been on hold due to some medical issues with my son.  Many of my cookbooks, kitchen items are packed away – and somehow both of the slow cookers I own are entombed behind a wall of boxes in my garage. Boxes and bins full of cookbooks and cookware block my access. So, what did I do – I go out and buy a third slow cooker so I could make the recipes in this title – because they are that tempting.
The author shares many tips and advice on slow cooker food safety, ways to round out a meal, other tools you will need to be a star in the kitchen, and a wealth of meals that will keep your family and friends happy and full.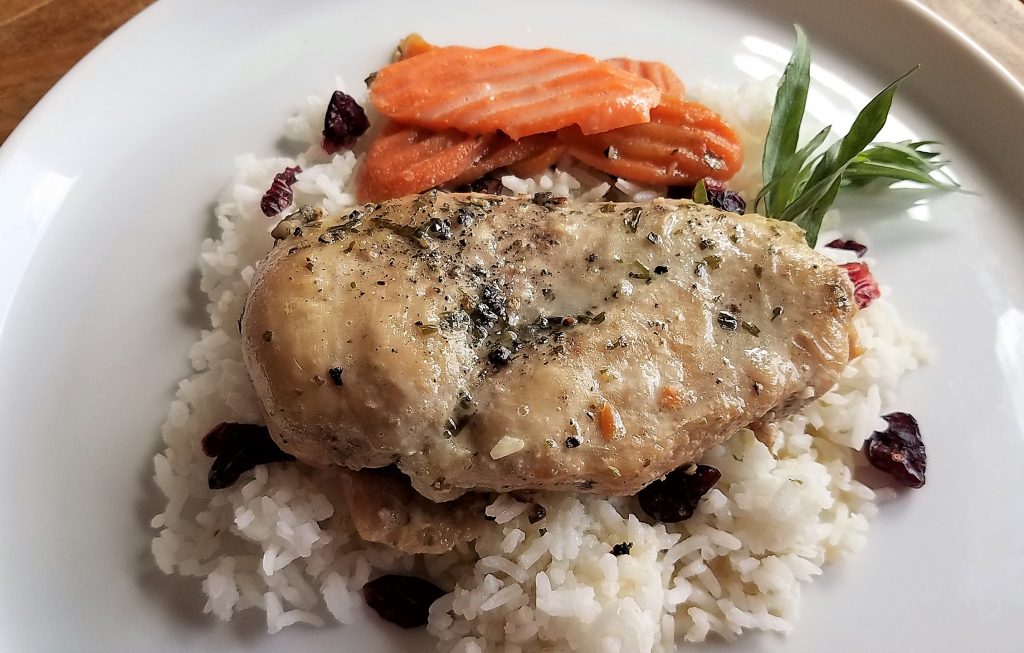 My favorite recipe so far has been the Tarragon and Crème Fraîche Chicken (recipe below) pictured above (I did sub breasts for thighs because that is what I had on hand and adjusted the cooking time). I made this on a day that I did not want to cook and it was painless and delicious and the sauce made the dish. Liana has made slow cooking much more attractive to slow cook lovers and new converts like myself delivering flavor-packed dishes and easy approachable recipes. Slow Cook Modern will be a valuable tool in any busy cook's kitchen.
Tarragon and Crème Fraîche Chicken
Ingredients
2 tbsp olive or vegetable oil
910g well-trimmed boneless, skinless chicken thighs
2 heaping tsp dried tarragon
salt and freshly ground black pepper
2 shallots, thinly sliced
2 tbsp brandy (optional)
2 tbsp crème fraîche
Method
MORNING
In a large skillet or sauté pan, heat 1 tbsp of the oil over medium-high heat until it shimmers. Sprinkle the chicken thighs with 1 heaping tsp of the tarragon, several pinches of salt, and several grindings of pepper, then add to the pan, folded into little bundles with the smooth side out (the way they're often packaged in the store) so they fit in the pan. Cook until nicely browned on the bottom, 3 to 5 minutes, then use tongs to turn them over and brown the opposite side. Transfer them to the slow cooker, still shaped into their compact bundles.
Return the pan to medium heat and add the remaining 1 tbsp oil. Add the shallots and a pinch of salt and cook, stirring frequently, until softened and lightly browned, about 3 minutes, then add the brandy (if using) and 240ml water and stir up any browned bits from the pan. Scrape into the cooker. Cover and cook on low for 8 hours.
EVENING
Using a slotted spoon or tongs, remove the chicken to a bowl (along with some of the shallots). Stir the crème fraîche and remaining 1 heaping tsp tarragon into the sauce in the cooker and season with salt and pepper to taste. Return the chicken to the sauce and serve.
Extracted from Slow Cook Modern: 200 Recipes for the Way We Eat Today by Liana Krissoff
Abrams Books provided a copy of this book to me as a part of the Abrams Dinner Party. Opinions are my own.