Savory is my thing – give me something salty or acidic and I am a happy girl – although if you add a savory aspect to some desserts – I can be persuaded. Over the last few years, I have been experimenting with different types of vinegar – adding a splash to sauces and dishes for just a hit of flavor and finding that I enjoy the acidic aspects to many dishes.
Michael Harlan Turkell's Acid Trip: Travels in the World of Vinegar arrived from Abrams as a part of the Abrams Dinner Party this year and I could not wait to dive in. The author who also happens to be a world-class photographer as well shares recipes from leading chefs, insights from top vinegar producers and step-by-step instructions on how we can make our own vinegar at home. Making our own product takes patience but is far superior to store bought the author shares. Organized by country/region with a wealth of information from the locals, it is a true encyclopedia to this ingredient.
Vinegar is the wallflower of the pantry, it sits on the shelf waiting for us to grab it and when that moment comes it brings flavor and balance to a dish, adds much-needed acid, can be used to deglaze a pan and so much more. The photographs here are stunning, the content invaluable and the recipes incredible – after all, they originate from top chefs.
The first recipe I tried was Pancetta Cooked in Balsamic Vinegar (from Sara Jenkins, Porsena, New York City) which only took minutes but completely wowed us all. I look forward to making this again when we have company – but for now, we were grateful to have it all to ourselves. Fry up some pancetta until crispy and add some balsamic and magically you have a super delicious appetizer. I have also made the vinegar butter sauce for a chicken dish – that was out of this world. More fun with vinegar, including making my own, will be coming soon.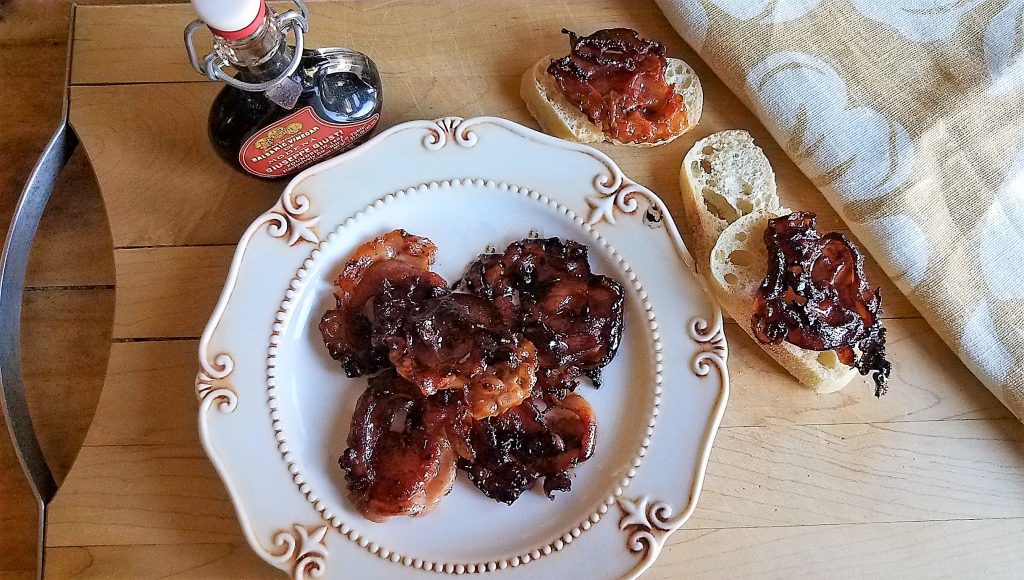 Acid Trip is a must have for any serious cook. Thanks to Abrams Books for sharing this title as a part of the Abrams Dinner Party.