The vibrant colors, exotic flavors and warm spices of Indian cuisine make it one of my favorites. I cannot pass up a title devoted to international cooking, especially Indian and Asian cuisines.
Meera Sodha's debut cookbook Made in India is not only beautiful but embraces recipes that are not intimidating, complicated or time consuming with the bonus of containing ingredients that are not difficult to procure. The photographs are stunning and the dishes covered in this title are enticing.
Roasted Tamarind Chicken with Honey and Red Chili, Pistachio and Yogurt Chicken Curry and Chana Dal with Golden Garlic Tarka would be so warm and comforting now that winter is upon us. Baked Masala Fries, Ferrari (pan fried potatoes with peanuts, black pepper and lemon juice) and Roasted Cauliflower with Cumin, Turmeric and Lemon are a sampling of the side dishes that can add a touch of India to any meal. Salads, chutneys, vegetarian and vegan dishes are also offered up.
The dessert chapter contains many recipes that I am anxious to try – Banana Pancakes with Coconut and Jaggery (jaggery is Indian sugar but brown sugar can be substituted), Fennel Seed Shortbread and Love Cake with Cardamom and Pomegranate Shrikhand are a few examples.
Special thanks to Flatiron Books and Meera Sodha for sharing the Lamb Biryani photograph and recipe with us. Download the recipe here:  LAMB BIRYANI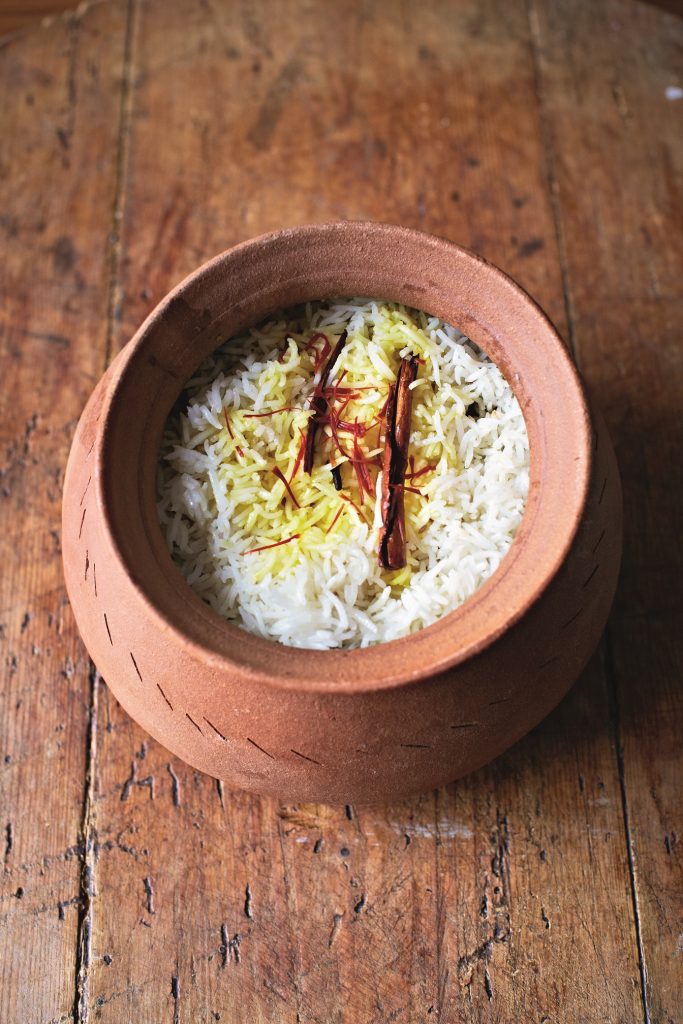 This is a lovely book for any level of cook — and a welcome addition to my cookbook shelf.
GIVEAWAY:  Thanks to Flatiron Books for the review copy of this book as well as offering to give away a copy to one of you! To enter leave a comment on this post mentioning your favorite Indian dish. For a second chance, leave an additional comment telling me you visited The Cookbook Junkies fan page (where I post all giveaways), a like is appreciated but not required. A random winner will be chosen on December 22nd. The giveaway is open to persons with U.S. addresses only.  Good luck. Random Number Generator picked #41 – Aaron R. Congratulations!