Thanksgiving is such a food-centric holiday ending with a feast – that I usually don't put much thought into appetizers. When I would host our family — I'd just set out nuts or cheese and crackers to munch on and we'd eat fairly early. This year we're having two couples over and I'm not sure who else for dinner and I want to do a fancy appetizer or two – I'm sharing a few cheesy ideas here – which one would you choose?
Clinton Kelly made this Sweet & Savory Brie Tart on The Chew the other day and it looked elegant. I am thinking of making this in a rectangular tart pan and serving with some fruits and nuts on the side. I'm leaning toward this recipe — but mixing it up a bit.
While we were in New York for our nephew's wedding in August, I spent one day cooking a feast for the family and working from my sister-in-law's house while they went to the beach. For an appetizer, I made homemade ricotta on crostini with a balsamic drizzle. Everyone loved it. Below is a photo without the drizzle and just a little lemon olive oil  oil on top. I've tried a few recipes for ricotta and prefer Jennie's. Jennie's cookbook Homemade with Love is one of my favorites and special note —  the chocolate cake recipe in this book is worth the price of the book alone.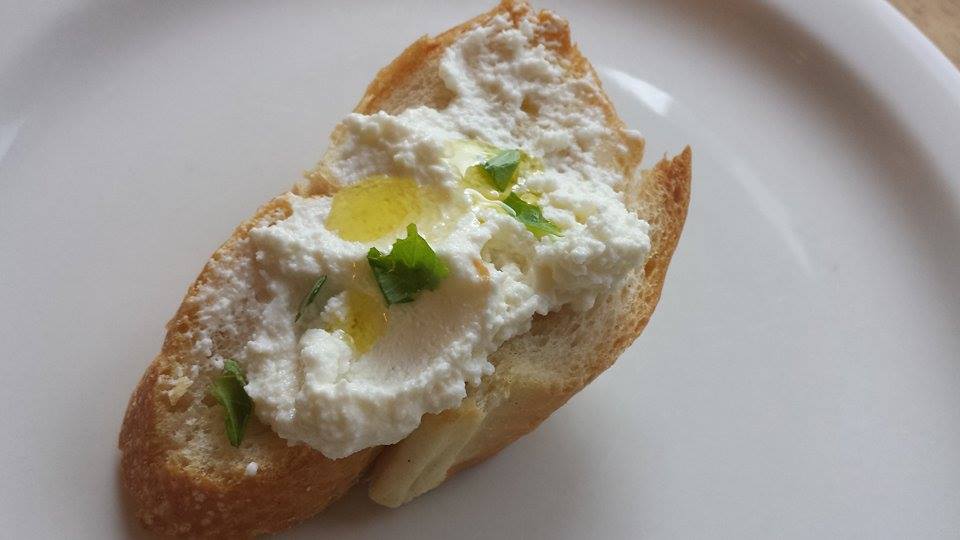 Leite's Culinaria posted the baked fontina from the Red Cat in New York and it is so simple to make and incredibly delicious. Make sure you purchase Italian fontina — it melts perfectly for this dish. I purchased The Red Cat Cookbook just because this recipe is so great. Thanks to David Leite for permission to share his link and David Sawyer's photo from his site.
I remember the first time I made toasted ravioli for Jim's family — they were in awe. It's a St. Louis tradition.  I don't use a recipe as I've been making it for years – but I linked here to Giada's recipe. I've used cheese, sausage and any flavor of ravioli – I've also used this method for pierogies as well with a sour cream, honey dipping sauce.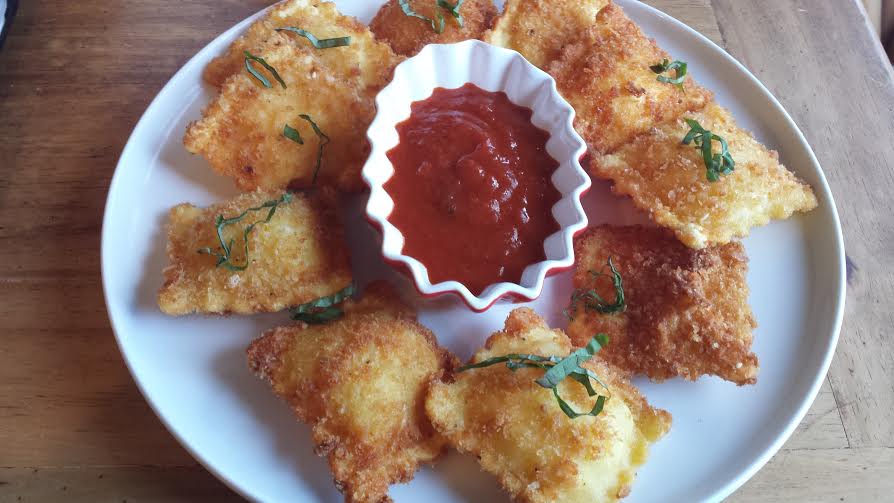 Lastly, Pam's Italian Cheese Dip might be a great dip to serve along side the raviolis. Decisions….decisions….
Cheese…glorious…cheese. If things continue as they have the last few weeks — I may be putting out a wedge of Kerrygold and a box of Triscuit. I joke. I joke. Enjoy your Thanksgiving Day celebrations.