We have started a baking group over on Facebook and are baking our way through my friend, Monica's fantastic cookbook Lick the Bowl Good .

Our first recipe was a Banana Pecan Breakfast Cake.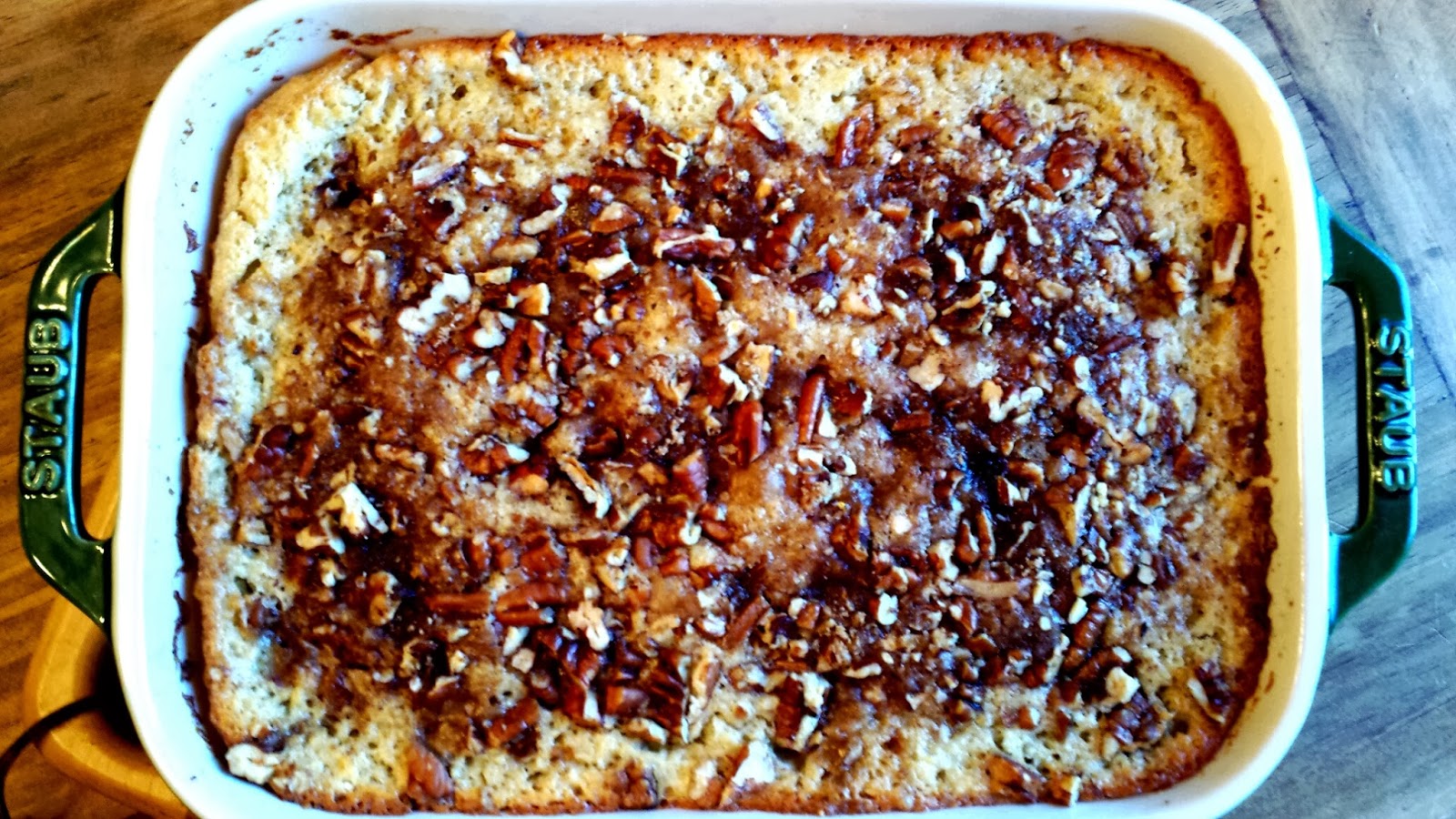 This cake was delicious and I'm going to use the basic recipe for all types of breakfast cakes. To Monica's recipe – I added a tablespoon of orange zest and the juice from one large orange. I also added about one fourth cup additional flour and left out the cinnamon in the cake mixture.

Monica and her publisher have allowed us to use the recipes in our blog post but I ask that you look to purchasing Monica's book for your collection. Every baker should have a copy.
Banana Pecan Breakfast Cake

Preheat the oven to 350 degrees.

Cake ingredients

1 1/2 cups all-purpose flour (I added an additional 1/4 cup of flour)
1/4 teaspoon baking powder3/4 teaspoon baking soda1/2 teaspoon salt1 teaspoon ground cinnamon (omitted)1/2 cup butter, softened3/4 cup packed brown sugar (I used regular white sugar)1 large egg1 teaspoon pure vanilla extract1 cup overripe mashed bananas (I used three large ripe bananas)1/4 cup buttermilk
1/4 cup brown sugar, packed
1/3 cup chopped pecans (I used about a half cup)
1/2 teaspoon ground cinnamon


(I added a tablespoon of orange zest and the juice of one orange)

For the topping:

Spray a 8 x 8 inch baking pan with non-stick baking spray and set aside.

In a medium bowl, combine the flour, baking powder, baking soda, salt and 1 teaspoon cinnamon.

In a large bowl, cream together the butter and the 3/4 cup brown sugar until light and fluffy. Blend in the egg, vanilla and the mashed bananas.

Add half of the flour mixture into the banana mixture and blend until just combined. Do not overwork. Blend in all of the buttermilk and once combined, blend in the additional flour and blend until thoroughly mixed.

Place the batter into the prepared pan and smooth the top.

In a small bowl, combine the 1/4 cup brown sugar, pecans, 1/2 teaspoon cinnamon. Mix to combine all the ingredients and then sprinkle evenly over the cake batter.

Bake in a preheated oven for approximately 40 minutes or until a toothpick inserted in the center comes out clean. (Mine took about 35 minutes).

Cool on a wire rack.

Serve slightly warm or at room temperature.