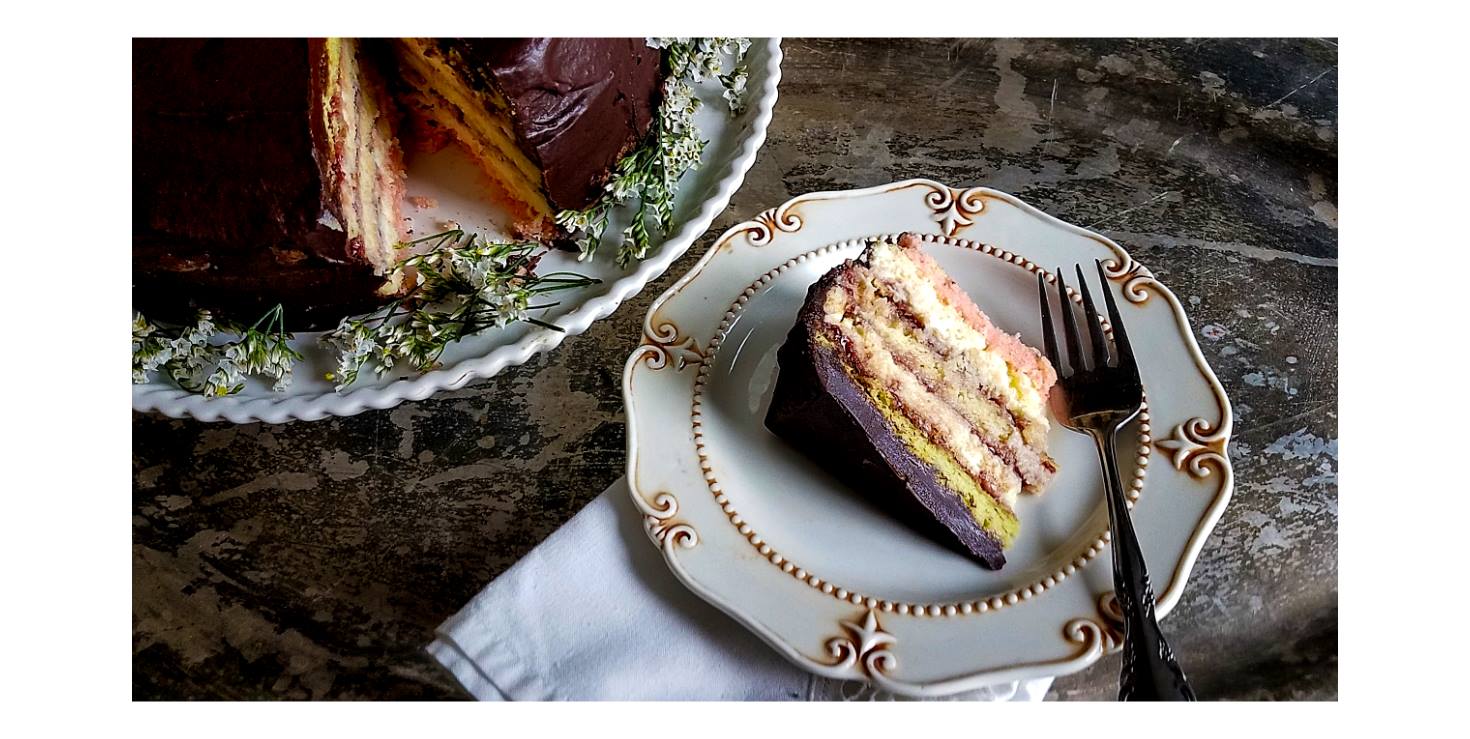 We love Italian Rainbow Cookies at our house and my son loves cheesecake. Headed to breakfast the other morning, I was talking about recipes and the idea of a cake that combined the rainbow cookies and cheesecake sounded like a good idea. It's probably been done before – but I wanted to share with you what I did. I received many raves about this recipe and had to deliver slices to neighbors, friends and family to keep us from eating it all – even my husband who dislikes cheesecake loved it.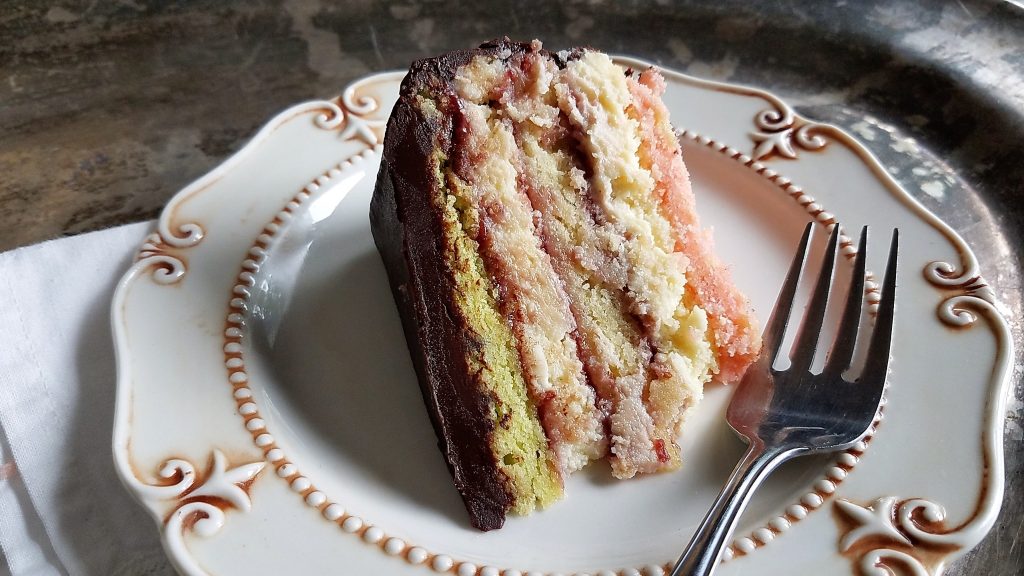 Here is how I did it – it was a little work but well worth the effort – more waiting time for cooling than actually hands on.
For the rainbow cookie layers – I took my favorite rainbow cookie recipe from Epicurious and halved it (just about). To make things easier – I bought disposable foil cake pans so that I could peel the cookie layers out if I needed to. You can totally use regular baking pans or springform pans and sadly I have enough of those to do that – but all the extras are packed at the present time.
Prep three 8 inch disposable pans with non-stick baking spray.
Preheat oven to 350 and gather your ingredients – make sure you have taken your butter and cream cheese out way in advance so that they come to true room temperature. This makes for easier mixing.
Ingredients:
1 cups unsalted butter, cubed, at room temperature
3 large eggs, separated
2/3 cups sugar, divided
8 ounces almond paste (not marzipan), chopped
1 1/3 cups plus 1 tablespoon all-purpose flour
½ teaspoon salt
1/2 teaspoon green food coloring
1/2 teaspoon red food coloring
Preheat oven to 350° Put egg whites in bowl of a stand mixer fitted with a whisk; beat until soft peaks form. Slowly add 1/3 cup sugar, beating until stiff peaks form. Transfer to a large bowl; cover; chill. Using the paddle attachment, beat almond paste and remaining sugar on medium-low until incorporated, 4-5 minutes. Increase speed to medium-high; gradually add butter. Beat until fluffy. Beat in yolks, then flour and salt. Fold in whites in 2 additions. Divide batter evenly among 3 bowls. Mix red coloring into 1 bowl and green coloring into second bowl; leave third bowl plain. Spread 1 bowl of batter into each prepared pan; smooth tops. Bake, rotating pans halfway through, until just set, 9-11 minutes. Let cool in pans.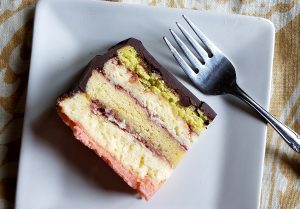 For the cheesecake, again I halved my recipe (almost) that I have posted about before:
3 eight ounce packages, softened
½  cups of sugar
2 eggs
1 tablespoon of orange zest
¼ teaspoon of salt
Prep with non-stick baking spray – two 8 inch round disposable pans.
Beat cheeses and sugar until smooth.  Add eggs one at a time, beat — add flavorings or extracts — beat for a few minutes until creamy and combined.  Spread filling evenly into two pans.  Bake for 35 to 45 minutes on center rack. Allow to thoroughly cool.
After all the layers are cooled. On your cake plate – place the red layer on the bottom. Take one jar of raspberry jam – I don't heat it or strain it – just spread a nice thin layer on top of the red layer (mine is pink because I don't like the bright red or green colors). Carefully remove one of the cheesecake layers and place it on top of the raspberry covered red layer. Repeat with a thin layer of raspberry jam on the cheesecake. Take the plain layer of rainbow cookie and repeat, followed by the other cheesecake layer, and ending up with the green layer on top. You will have raspberry jam on each layer.
Place the cake in the refrigerator for at least an hour.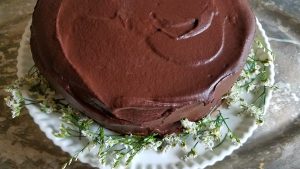 Ten minutes before taking the cake out of the fridge – heat about 4 ounces of heavy cream in a sauce pan. Place a 12 ounce bag of bittersweet chocolate morsels in a bowl. Pour hot cream over morsels and stir until melted and glossy. I found this amount perfect to cover the whole cake and was relatively spreadable but still gave that hardened snap that rainbow cookies have. Allow the chocolate covering to cool for a few minutes then remove cake from fridge and cover with the chocolate. Return to fridge at least a few hours or overnight.
To cut and serve – heat a sharp knife under hot running water and dry to cut pretty slices and put on your eating pants.  Enjoy.