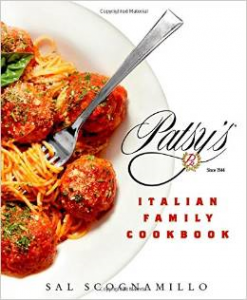 A few years back, I was not a lover of Italian food or at least the Italian food that I had experienced.  To me it was all the same pasta, cheese and tomatoes; pasta, cheese and tomatoes.   I've learned that there is so much  more to authentic Italian food.  I credit some of this to my good friend, Marc and to the Extra Virgin cooking show, a show I thought I would hate and ended up loving and enjoying — kind of the same way I felt about Marc.
I'm a sucker for restaurant cookbooks and specifically New York restaurant books and Patsy's Italian Family Cookbook hits both of these notes.   There is a dash of old New York in the photos and narrative that I love and —  Frank Sinatra — who doesn't love Frank Sinatra?
There are some of the usual recipes as in any Italian restaurant cookbook — meatballs, marinara, mussels but these are Patsy's recipes – folks – Patsy's!   The secrets and recipes from the wildly successful restaurant.
Some of the recipes that stood out to me were the Meatball-tini — cute tiny meatballs served in a martini glass, shrimp casino – a play on clams casino, I love their version of Italian wedding soup with meatball-tini's, sopressata and broccoli, Pavese soup a simple soup with chicken stock, Italian bread and a fried egg, steak oreganata, veal scaloppini besciamella, the Pork Rollatini looks incredible, and flounder milanese. Truthfully, everything looks like something I would enjoy making and feeding to friends and family.
The chapter on breads — includes St. Joseph's Bread, zeppole (my favorite), ricotta and wheat berry cheesecake — and the dessert chapter – anise biscotti, panettone bread pudding, fried bows, Grandma Josie's cream puffs, peach crostata and apple fritters.   Dessert making is on hold during Lent – but come Easter – I'm going to be baking up a storm.
Today I am preparing the scaloppini besciamella but with chicken instead of veal – the recipe takes a little prep work  but it promises to be delicious.  I've never made a dish like this before – and the instructions were wonderful — the besciamella and cutlets are chilling and later I will finish the preparation.  I will edit the post this evening with photographs of the dish.
Update:  The chicken besciamella is heavenly.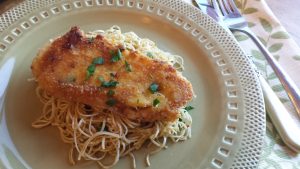 The inside view — this dish will go into our rotation.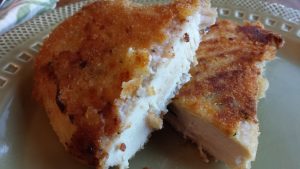 If you can't have dinner at Patsy's, you have the comfort of being able to re-create their legendary food at home with this wonderful cookbook.  If you do decide to order, I would appreciate your using the link above the banner to help support this site.
GIVEAWAY
Random Number Generator picked number 67 — Pam Green – Pam please e-mail your address to icywit@gmail.com by Friday the 20th.  If I don't hear from Pam, another random winner will be chosen on Friday.
My friends at St. Martin's are offering one of you a copy of this fabulous new book set for release on March 24th.  Please leave a comment here letting me know if you have ever eaten at Patsy's.   For a second chance, please register here on the forum and leave a comment telling me you did.  (Folks who are already registered – leave me a comment stating so!) The giveaway is open to US addresses only.  A random winner will be chosen on March 17th.  Good luck.  (Be patient with your comments – all comments must be moderated and will show up.)
Thank you St. Martin's!