Donna Hay's back with another stunning title, Life in Balance, which is set to be released today. Donna Hay is a leading food personality in Australia, a magazine editor-in-chief, and a best-selling cookbook author who began her food writing career at the age of 19.
Her books and magazine are known for their vibrant, modern look at life food and cooking. In this title, Donna focuses on a fresher approach to eating with information on ingredients along with recipes. Oh the recipes! Beef Skewers with Crispy Amaranth and Brown Rice Noodle Pancakes; Roasted Quinoa and Tomato Soup with Parmesan Wafers and Crispy Basil; Coconut Poached Chicken Salad; and Moroccan Chicken and Carrot Salad with Whole-Wheat Couscous (recipe below) are examples of the incredibly flavorful, yet good-for-you, dishes that can be easily whipped up on a weeknight but are also suitable for entertaining.
Fresh and healthy ingredients do not mean we must go without dessert. We can still have Lemon Cheesecake with Blistered Peaches; Almond and Jam Tart and a Chocolate and Peanut Butter Slice that are all decadent and yet made with ingredients that thoughtful and nourishing.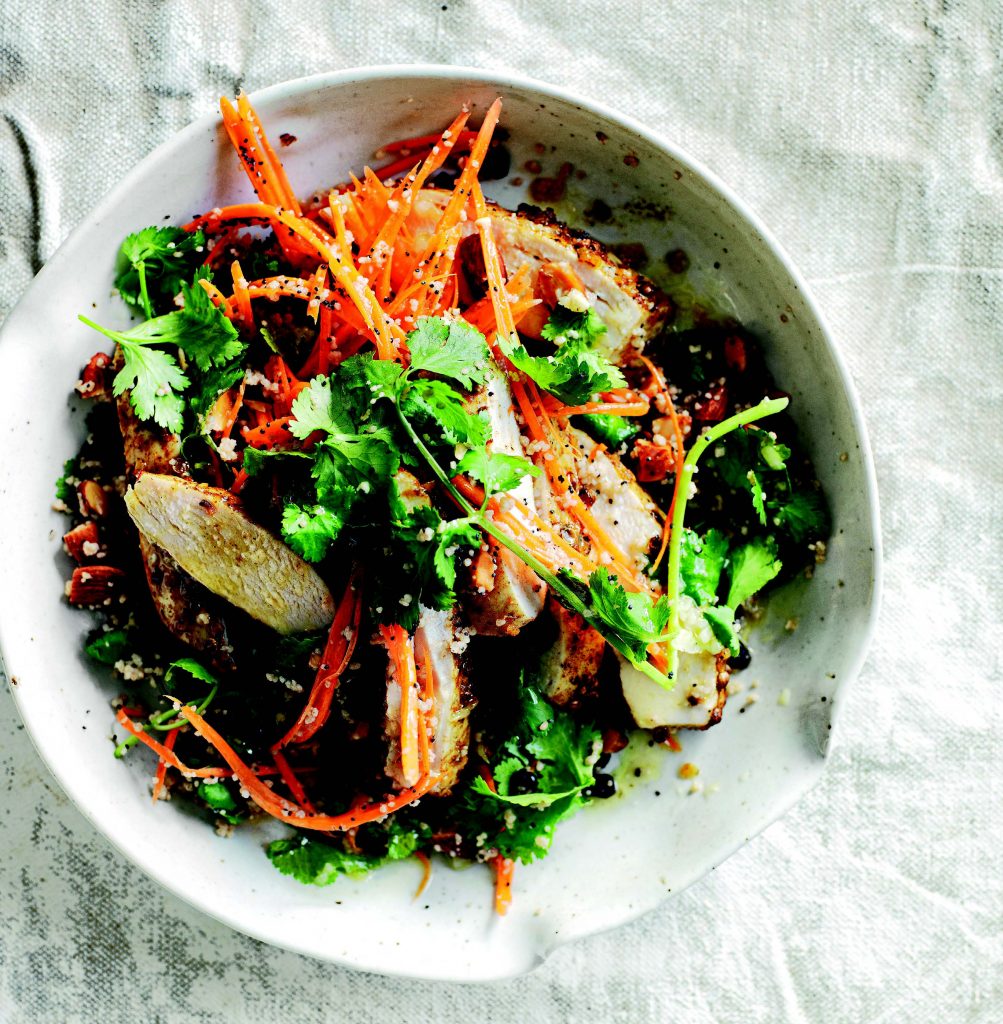 Image credits: Chris Court, William Meppem
Moroccan Chicken and Carrot Salad with Whole-Wheat Couscous
2 tablespoons extra virgin olive oil
1 teaspoon ras el hanout*
1 tablespoon chopped preserved lemon rind
1 teaspoon coriander seeds, crushed
3 x 200g chicken breast fillets, trimmed
1½ cups (240g) dried whole-wheat couscous*
1½ cups (375ml) boiling water
sea salt flakes
3 carrots, peeled and shredded
1 cup (160g) smoked almonds, chopped
½ cup (80g) dried currants
2 tablespoons poppyseeds
3 cups coriander (cilantro) leaves
orange dressing
2 tablespoons extra virgin olive oil
¼ cup (60ml) orange juice
2 tablespoons white wine vinegar
1 clove garlic, crushed
1 teaspoon Dijon mustard
To make the orange dressing, place the oil, orange juice, vinegar,
garlic and mustard in a bowl. Whisk to combine and set aside.
Preheat oven to 220°C (425°F). Place the oil, ras el hanout,
lemon rind and coriander seeds in a small bowl and mix to
combine. Place the chicken on a baking tray lined with non-stick
baking paper and brush with the ras el hanout mixture. Roast
for 12–15 minutes or until golden and cooked through. Allow to
cool slightly before slicing into strips.
While the chicken is roasting, place the couscous, water and a
pinch of salt in a large bowl and cover with plastic wrap. Set aside
for 5 minutes or until the water is absorbed. Fluff the couscous
with a fork and add the carrot, almonds, currants, poppyseeds,
coriander and the chicken. Top with the orange dressing, toss to
combine and divide between bowls to serve. SERVES 4
Reprinted from Life In Balance by Donna Hay © 2016 by Donna Hay, used with permission from HarperCollins publishers.
The Moroccan Chicken will be made soon and I will update the post with a photo which won't be nearly as beautiful as that above. Very soon, I will make the lemon cheesecake while peaches are everywhere here in Colorado.
Now for the GIVEAWAY:  HarperCollins has generously offered one of you a copy of this beautiful book for your collection. The giveaway is open to U.S. addresses only. To enter you  may leave a comment daily and a second entry can be obtained by sharing this post on social media. A random winner will be chosen on September 20th.
Random Number Generator picked #4 Jean J. Update: Jean already has the book – so the new random winner is #16 Joan O.