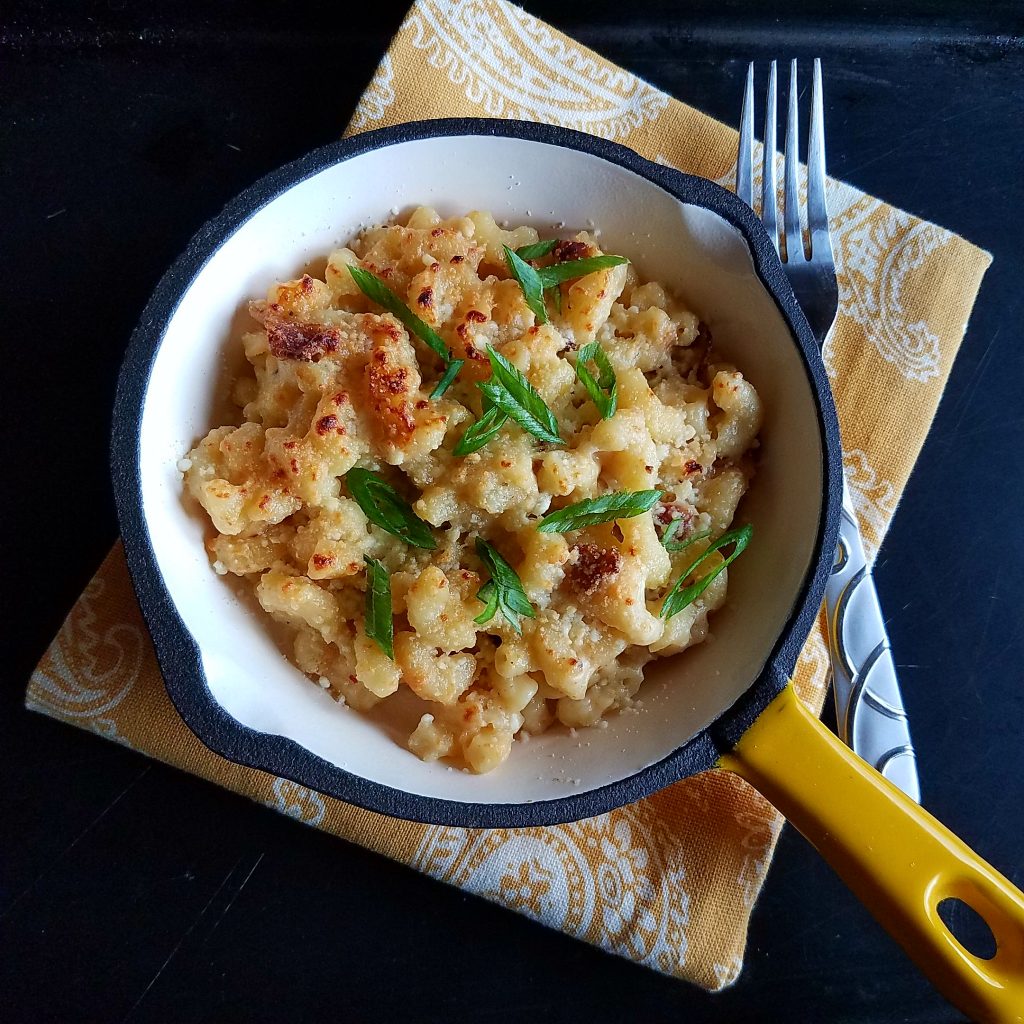 Hello, Cookbook Junkies! I am back with a recipe for Spicy Bacon Mac and Cheese which I made for Easter last week and a few friends asked for the recipe. I was quite happy with everything about this dish – the flavor, texture and spice level – and then to gild the lily – we have bacon!
Before I get to the recipe, I would like to share a bit about what I've been doing. Being the Cookbook Promotions Manager for Eat Your Books is taking the majority of my time and I am loving everything I am doing for Jane, Fiona and their team. I'm working at bringing new members to the site and sharing cookbook news and giveaways. Until the end of this year, using the code CBJ17, you can try Eat Your Books for three months and take advantage of all its services. Check it out.
The last few weeks I have been on a try new recipes kick – more so than usual. Here are a few of the things I've been creating in my kitchen.
We have been eating well in the Hartin home. Now back to the Spicy Bacon Mac and Cheese – for this recipe I used one eight ounce package of Cabot's Seriously Sharp Cheddar and about three ounces of Cabot's Hot Habanero and it was crazy spicy for my husband. I cooled it down by adding a half cup of sour cream and a half cup of cream to the finished product to make it more tame. If you like spicy, forego this addition.
Spicy Bacon Macaroni & Cheese
Ingredients:
12 ounce package of elbow noodles, cooked three minutes less than package instructions
8 ounces of Cabot Seriously Sharp Cheddar, shredded
3 ounces of Cabot Hot Habanero, shredded
3 ounces of Cabot Cheddar of your choice for topping, shredded
1/4 teaspoon of garlic powder
1/4 teaspoon of onion powder (or 1/4 cup of sauteed onions)
Kosher salt, freshly ground black pepper
4 slices of super crispy fried bacon, crumbled
2 tablespoons of butter or if you are brave bacon drippings (Lipitor shooter optional)
2 tablespoons of flour
1 tablespoon of stone ground mustard (I love Maille)
1 cup of milk, warmed (or more if needed), I microwave for 30 to 45 seconds
1/2 cup of sour cream (optional)
1/2 cup of heavy cream (optional)
Instructions:
Cook macaroni, three minutes less than package instructions. Drain and rinse.
In a heavy bottomed pan, melt butter or bacon drippings over medium heat. Stir in enough flour to make a roux. Add warmed milk to roux slowly, stirring constantly. Stir in cheeses, spices, mustard and cook over low heat until cheese is melted and the sauce is thickened. Add bacon to the cheese mixture. Taste cheese sauce – if too spicy add sour cream, try again. If still too spicy, add cream. (I did add one tablespoon of honey to the sauce mixture (to tame the heat) as well but not necessary.) Place macaroni in large broiler safe dish, and pour sauce over macaroni. Stir well. Top with about a handful of shredded cheddar.
Bake at 350 degrees F (175 degrees C) for 20 to 30 minutes. Last three or four minutes, I place under the broiler to brown it up.