Adelina Pulford started cooking for her family as a seven year old child in the small Calabrian town of Cervicati in Italy. Her family moved to Australia where she entered culinary school and specialized in regional Italian cuisine and desserts. Today, she teaches Italian cooking at her cooking school, "Adelina's Kitchen Dromana." Adelina's Facebook page shares photographs of all the lovely creations that result from her classes – these classes are on my must do if ever we get to Australia. Adelina is the author of three lovely cookbooks which I will tell you a bit about today.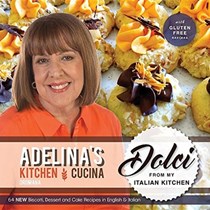 Adelina's Kitchen Dromana: Dolci from my Italian Kitchen by Adelina Pulford shares 64 recipes for biscotti, desserts and cakes both in English and Italian along with many photographs of the finished desserts. I love Italian baking and books devoted to same.  There is something uniquely special about Italian desserts – simple or elegant – even the easiest of cookies look and taste incredible. I think it coincides with the style of Italian cooking. Italians cook with fresh ingredients, dishes are not overly complicated – but always delicious. Almond & Chocolate Easter Eggs, Limocello Biscuits, and a Bavarese with Mascarpone & Chocolate that will wow any pastry chef are included in this title along with gluten-free recipes. I have to admit – I have many Italian baking books and I was worried that this title wouldn't be a keeper but it will survive MY BIG FAT COOKBOOK PURGE of 2017.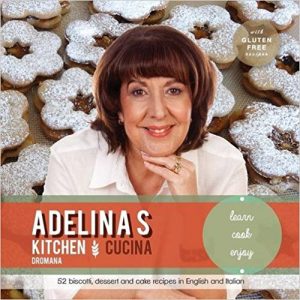 Adelina's Kitchen Dromana: Learn Cook Enjoy is another title devoted to desserts with 52 biscotti, dessert and cake recipes again in both English and Italian. Pine Nut Biscuits, Vanilla Biscuits with Coffee Glaze, Blueberry and Lemon Friands, and Prosecco Panna Cotta are included in this title. While everything is tempting in this title (as with Dolci above) – the Cake Chapter shines with recipes for a decadent Hazelnut & Chocolate Torte, a Panettone Cake, and a Zuppa Inglese. I just received a friand pan (finally) from Australia and I will be making the friands and will come back to this post to edit. Another must have from Adelina.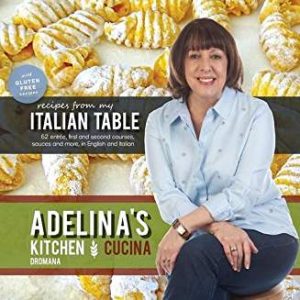 The last book I am sharing with you today is Adelina's Kitchen Dromana: Recipes from My Italian Table which shares 62 entree, first and second courses, sauces and more – and yes in English and Italian. All the classic traditional recipes are here – Potato Gnocchi, Eggplant Involtini, Chicken Scaloppine Parmigiana, Risotto Calabrese and more. Photographs are plentiful and again includes gluten-free recipes. Adelina's books are approachable and will be appreciated by any level of baker or cook.
This collection of books would make a wonderful gift for the cook that wants to expand their knowledge of Italian desserts and get started on the savor classics. Her books are simple and straightforward but unique enough to please this Cookbook Junkie.
Adelina is sharing a recipe with us today – her Baked Cannoli in both Italian and English. You can download the file here as well.
Baked Cannoli
Ingredients
500g flour
150g butter
100g caster sugar
250g toasted blanched almonds chopped
1 teaspoon vanilla essence
2 eggs
1 egg white
50ml water for binding the mixture
pastry cream or ricotta filling to fill them
Put the flour, sugar, butter, vanilla essence, in the bowl of an electric mixer and mix for 5 minutes, then add the eggs and the water and mix until the dough comes together, wrap in cling film and refrigerate for 30 minutes. Roll dough with pasta machine, as thin as possible, cut square shapes, wrap around the cannoli moulds, seal them with egg white, then brush the outside with more egg white and roll the cannoli in the chopped almonds. Bake in a preheated oven, 180 degrees for 10 minutes, remove the moulds and cook for another 5 minutes, fill with pastry cream or Ricotta filling: –
500g ricotta
one cup whipped cream
100g orange peel pure'
one tablespoon Orange Liqueur
4 tablespoons icing sugar

Mix ricotta in a bowl with liqueur, icing sugar, the fold in whipped cream; refrigerate before using.
Cannoli al Forno
Ingredienti
500g farina
150g burro
100g zucchero semolato
250g di mandorle pelate e tritate
un cucchiaino di essenza di vaniglia
2 uova
1 albume
50ml d'acqua
crema pasticcera oppure ripieno di ricotta
Impastate la farina nel mixer elettrico, con lo zucchero, il burro, e la vaniglia per 5 minuti, poi aggiungete le uova e l'acqua fino a quando avete ottenuto un composto consistente; avvolgete l'impasto nella pellicola, e mettete in frigo per 30 minuti; poi stendete la sfoglia molto sottile, passatele nella macchinetta, tagliate dei quadrati, avvolgeteli attorno agli apposite cannelli di alluminio e fissate le estremita conl'albume, leggermente sbattuto, poi spennellate i cannoli con albume e passateli nelle mandorle tritate; infornate a forno riscaldato, 180 gradi per 10minuti, poi sfilate i cannelli, e rimettete  i cannoli nel forno per altri 5 minuti. Fate raffreddare e farcite i cannoli con la crema pasticcera oppure il ripieno di ricotta
Ripieno di ricotta
500g ricotta una tazza di panna montata a neve
100g di scorze di arance candite tritate
un cucchiaio di liquore di Arancia
4 cucchiaia di zucchero a velo.
Mescolate la ricotta e il liquore in una ciotola, aggiungete i canditi, ed infine aggiungete la panna montata, mettete in frigo prima di servire 
Now for the giveaway!
Adelina is generously offering one reader a set of her books.  This contest is open until June 12th to US and Canada addresses. To enter please use the Rafflecopter widget below. There are many extra entries available – such as joining Eat Your Books, sharing this post and so forth. Good luck! New readers from Adelina's Facebook page – please note that you can try Eat Your Books for 3 months using the code CBJ17.