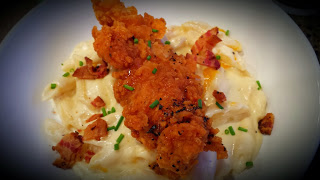 Applebee's is one of our stops if we are out for the day.   I try to make almost every meal at home.  Most mornings, I cook a hot meal for Andrew and on the weekend – all three meals but occasionally we'll go out for Chinese or Applebee's.  We can always find something there we all like.
Food snobs – look away.  Jim is a very picky eater (no fish, veggies, fruit, onions, mushrooms — need I go on?).  I couldn't go somewhere fancy if I wanted to – and truthfully – most places disappoint me.
The last three visits to Applebee's (over the course of two months) – Jim and I ordered their Honey Pepper Chicken and Macaroni and Cheese.  It is really tasty — don't judge.  But the third time – it was just okay – they are not being consistent.  I decided to re-create it at home and we all found that I did a better job than Applebee's.
 Creamy Macaroni and Cheese
For this recipe I used one box of penne – I cooked it for three minutes less than the al dente instructions. I rinse the pasta when I use it for macaroni and cheese. It stops the cooking process and it just works better for me — it prevents the pasta from all morphing together.  Set aside the drained pasta as you make the sauce.  NOTE:  I always reserve a cup or two of starchy pasta water – just in case you need it to loosen up the sauce. To make the sauce:
4 tablespoons of butter
1/4 cup of flour
salt and pepper
dash of nutmeg
dash or two of ground mustard
dash or two of garlic or onion powder (your preference — or saute a 1/4 cup of onion and add to your roux – Jim doesn't like onions – so I can't do this)
1 cup of whole milk
1 cup of half and half
8 to 12 oz of shredded cheddar (or a combination of cheeses of your liking – I use cheddar, colby, parmesan and/or whatever else is on hand).
Make the roux with the butter and flour – add salt and pepper and fresh nutmeg (just a tiny amount). Cook this for a minute or two – until the flour is cooked.  Add the milk and half and half.  Whisk until combined. After the sauce thickens a bit – add the shredded cheese – stir until melted.
Add the drained pasta to the pot. It will look like too much liquid – don't worry – it will set up. Transfer to a baking dish – or if your pot can transfer to the oven – save yourself a step.
I bake the mac and cheese uncovered for about 20 minutes at 350 —  so that the sauce thickens and everything looks golden brown and gooey.
Optional:   Applebee's mac and cheese is a little bland – I would add some red pepper flakes, carmelized onions, etc. Please use your common sense when you are making the mac and cheese – you made need more milk or half and half or reserved starchy pasta water. Some Applebees have bacon in their dish now. When I first had this dish, there wasn't bacon in my bowl. The second time I had it – it was horribly undercooked bacon – so you may of course add bacon to your finished dish.
Crispy Honey Peppered Chicken Strips
One pound boneless skinless chicken tenders, salt and peppered
First dredging container:
1 cup of flour seasoned with ¼ tsp. of lemon pepper and ¼ tsp. of salt
Second dredging container:
Two cups of buttermilk, salt and pepper
Third dredging container:
One cup of panko breadcrumbs
1/2 tsp of salt
1/2 tsp of lemon pepper
1 tsp of lemon zest
Dredge in flour mixture, then dredge in buttermilk, lastly dredge in panko mix.   Place tenders on wire rack inside of a sheet pan.  I let them set up about 20 minutes (can place back in fridge to fry later).
Heat a 1/2 cup or more of canola or vegetable oil (use your own judgment – if you need specifics – maybe just go order it at Applebee's in a large nonstick skillet (or cast iron) until about 325 degrees.
Cook tenders in small batches –  until golden brown.  About two to three minutes on each side depending on thickness.  Allow to drain on another wire rack on top of a sheet pan as you finish up the tenders.  (I put a brown paper bag under the rack to catch any drippings).
 Honey Pepper Glaze
¼ cup of honey
1/8 to ¼  cup of chicken stock
Juice of the lemon that was zested above
Copious amounts (to your liking of black pepper)
A dash of salt
Place these four ingredients into a small sauce pan and bring to simmer – it should thicken up a bit.
Toss this glaze and the chicken tenders in a large stainless steel bowl to coat the tenders.
Serve as in the photo above – a serving of macaroni and cheese and a tender (or two) on top.  Add a little chopped chives or scallions and some crispy chopped up bacon – and there you have it.
Applebee's version sometimes contains a little jalapeno – add that if you like.
There is something about that honey glaze as it seeps into the macaroni and cheese – just yummy.
Enjoy.