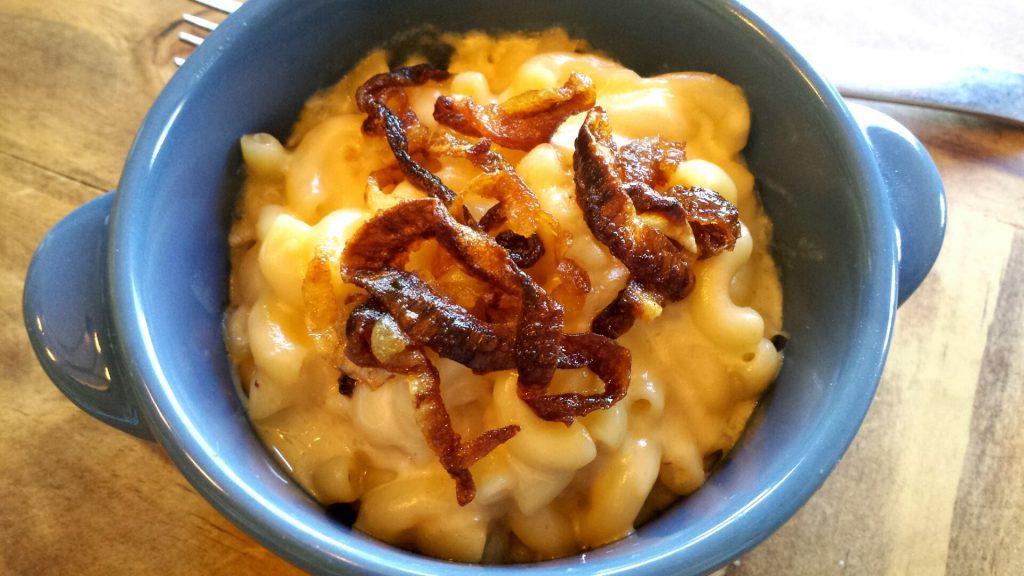 This macaroni and cheese came to me when I saw the package of Yancey's Fancy Steakhouse Onion Aged Cheddar in the fridge. I was making macaroni and cheese today to have with our leftover brisket and pulled pork from our Labor Day meal and to be used in a special project tomorrow. Adding the Steakhouse Onion cheddar and the caramelized onions to the mix really made this mac and cheese incredible.
I've used Yancey's Fancy cheeses before in my macaroni and cheese recipes – their horseradish cheese was so great mixed with some sharp cheddar a few months ago.
Andrew declared me the best cook in the world after he ate a huge bowl for dinner.
I hope you try it soon.
Caramelized onions
I sliced one Vidalia onion thinly and slowly caramelized it in a heavy bottomed pan with two tablespoons of butter for about 30 to 45 minutes. After the first ten minutes in the pan I added about a teaspoon of salt and a pinch of sugar to help the onions along. After the onions were nice and brown, I set them aside as I made the macaroni and cheese.
Macaroni and Cheese
One pound of elbow macaroni, cooked for five minutes in heavily salted water, drained and rinsed (set aside)
1 8 oz. package of Yancey's Steakhouse Onion Aged Cheddar, shredded
1 8 to 12 oz. package of cheddar, shredded (or you can use gruyere)
1/2 teaspoon of garlic powder
1/2 teaspoon of onion powder
salt, pepper to taste
3 cups of whole milk, warmed
4 tablespoons of flour
4 tablespoons of butter
Warm three cups of whole milk in the microwave or on the stove top. Add the butter to a heavy bottomed pan and melt – add the flour and cook until it is chestnut in color. Add the spices next — salt, pepper, onion and garlic powder (you can add a 1/2 teaspoon of dry mustard and a touch of freshly grated nutmeg if you wish) — slowly add the warmed milk to the roux and whisk continually.
Once the mixture has thickened about five minutes — add the shredded cheeses to combine. You should have a thick, rich cheese sauce.  Combine the cheese sauce and pasta and place into a baking dish (I used roughly a 9 x 13 dish), cover with foil and bake at 350 for 30 minutes. Remove the foil after 30 minutes and bake for 10 additional minutes to get brown and bubbly. I sprinkled the caramelized onions on the macaroni and cheese as I served it because my husband is anti-onion.