Bistronomy by Jane Sigal is a trip to Paris to enjoy the city's bistros without buying a plane ticket.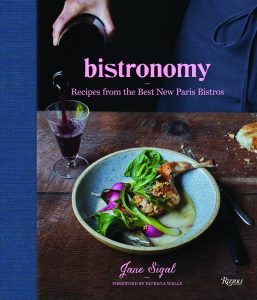 Paris chefs have started an about-face on the typical stuffiness that is sometimes associated with Parisian cuisine. They are now creating meal experiences that are geared more toward fun and less toward formality. Jane Sigal, a highly regarded authority on French cuisine, spent a year researching this beautiful book – bursting with vibrant photos and tempting recipes.
Bistronomy is the perfect balance of casual yet upscale dishes. Gazpacho with Chorizo & Pineapple, Winter Squash Soup with Cocoa Cream (recipe below) and Parmesan Soup with Peas in the first chapter alone call out to me…honestly every soup recipe sounds and looks delicious and perfect for the chilly season that is upon us.
Pan-seared Gnocchi Salad with Burrata and Tomatoes, Crisp Chicken with Potato Salad and Anchovy Vinaigrette, Grand Marnier Souffles with Salted Caramel, Brown-Sugar-Walnut Cake with Poached Quince and Almond-Coconut Orange Cake are a few of the dozens and dozens of recipes that are tabbed to try. Did you notice I included three desserts and I'm truly not a dessert person!
While some of the recipes have lengthy ingredient lists, they do not seem like they will be difficult to procure and the recipes for the most part seem fairly simple — some make take some time — but for people who love to cook – you want a book that will stretch your culinary muscles and create new and exciting dishes.
Winter Squash Soup with Cocoa Cream
Ingredients
1 tablespoon unsweetened cocoa powder, plus more for dusting
3/4 cup (185 ml) heavy cream
4 tablespoons (60 g) unsalted butter
1 small onion, halved and thinly sliced
Sea salt
One 1-pound (500-g) kabocha or butternut squash, peeled,
seeded, and cut into 1-inch (2.5-cm) pieces (see Notes)
4 cups (1 L) water or vegetable or chicken stock
4 ounces (125 g) Yukon Gold potato, peeled and diced
2 slices of firm, day-old white bread, crusts removed, cut into 1/4-inch (6-mm) cubes
Snipped chives, for sprinkling
Piment d'Espelette
Instructions
Notes:
To make prep easier, buy 1 pound (500 g) of peeled, seeded, and cubed winter squash.
The cocoa powder whipped into the cream makes it stiffer than usual.
Make Ahead:
The soup can be prepared through Step 2 and refrigerated for up to 2 days. The croutons can be stored in an airtight container for up to 2 days.
"It could be my mother's," says L'Ami Jean's Stephane Jego of this simple
veloute. "Except the cocoa cream takes it in a completely different direction." Jego
pipes the whipped cream into bowls and sends out the smooth soup separately
in a pitcher. The (unsweetened) cream melts as the steaming soup is poured into
your bowl, like marshmallows in a cup of hot chocolate.
In a medium bowl, whisk the cocoa with 1 tablespoon of the cream to form a thick
paste. Whisk in 1/2 cup (125 ml) of the remaining cream just until smooth. Cover
the bowl and refrigerate until very cold,at least 1 hour. Whip the cocoa cream
until it holds a firm peak. Cover and refrigerate.
Meanwhile, in a large saucepan, melt 2 tablespoons (30 g) of the butter. Add
the onion and a pinch of salt and cook over medium heat, stirring occasionally,
until softened, about 5 minutes. Add the squash, cover, and cook over medium-low
heat until it begins to soften, about 10 minutes. Add the water and potato and
bring to a boil. Simmer, partially covered, over medium heat, stirring occasionally,
until the potato is tender, about 20 minutes. Working in batches, puree
the soup in a blender until very smooth.
In a medium skillet, melt the remaining 2 tablespoons (30 g) of butter. Add the
bread cubes and cook over medium-low heat, stirring occasionally, until crisp and
golden, about 5 minutes. Season the croutons with salt, remove from the heat,
and let cool.
Return the soup to the saucepan, stir in the remaining 3 tablespoons of cream,
and gently reheat. Season with salt. Pour the soup into a tureen or pitcher.
Using a pastry bag with a large star tip or a spoon, pipe or dollop the whipped
cocoa cream into soup bowls. Dust with cocoa powder and sprinkle with the
croutons, chives, and piment d'Espelette.
Serve with the soup.
http://thecookbookjunkies.com/bistronomy-jane-sigal-giveaway/
©2015 The Cookbook Junkies - All Rights Reserved
GIVEAWAY:
Rizzoli provided me with a copy of this beautiful book to review and also a copy of this book for one lucky reader (US addresses only). Please leave a comment here telling me about your favorite French dish. A random winner will be chosen on November 20th. Please feel free to share this post with other cookbook lovers. Good luck!
Special thanks to Rizzoli for always producing incredibly beautiful books and allowing me to share the Winter Squash Soup recipe with you.
Random Number Generator picked #16 – Sue Westall.  Congratulations!